S Cereals
190 cereals start
with the letter
"S"

CEREALS LISTED ALPHABETICALLY: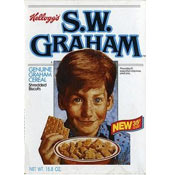 Featured "S" Cereal:
S.W. Graham
Ads for this cereal asked the question, "What does the 'S.W.' stand for in S.W. Graham?"
In one television ad, the heads of two children come to life on S.W. Graham cereal boxes to offer possible answers...
Read More
Other Featured "S" Cereals:






More Cereals That Start with "S"