S Cereals
191 cereals start
with the letter
"S"

CEREALS LISTED ALPHABETICALLY: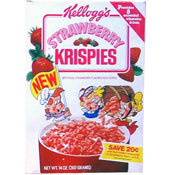 Featured "S" Cereal:
Strawberry Krispies
This cereal was described on the front of the box as an "artificial strawberry flavored rice cereal." Just as Cocoa Krispies consist of chocolate flavored, brown crisp rice, Strawberry Krispies was strawberry flavored, pinkish red crisp rice.
A coupon for the cereal announced...
Read More
Other Featured "S" Cereals:






More Cereals That Start with "S"