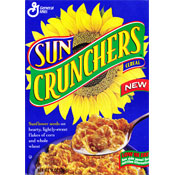 From: General Mills
Introduced in 1994
"Taste the SUNsation!"
This cereal was described on the front of the box as "sunflower seeds on hearty, lightly-sweetened flakes of corn and whole wheat". The back of the box gave a very long description of the cereal:
"Introducing New Sun Crunchers cereal... When sunflower seeds meet hearty flakes, the flavor grows with every delicious bite. Sun Crunchers is a bold, vibrant cereal with the extraordinary taste of sunflower seeds on every flake. Delicious, hearty flakes made from corn and whole wheat, with a crunch that will make your taste buds bloom!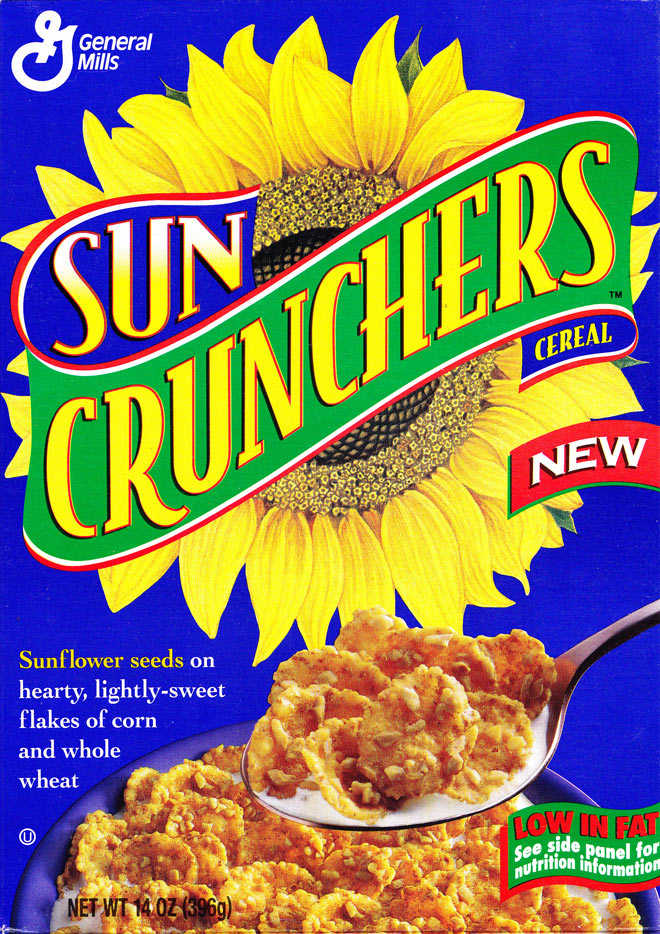 "But for all its exceptional flavor, Sun Crunchers is something else as well. It's healthy. It's low in fat. It's a good source of fiber, and an excellent source of 8 essential vitamins and iron. We've planted the seeds for a unique new taste of breakfast. But to truly believe just how good Sun Crunchers is, you'll have to taste it for yourself."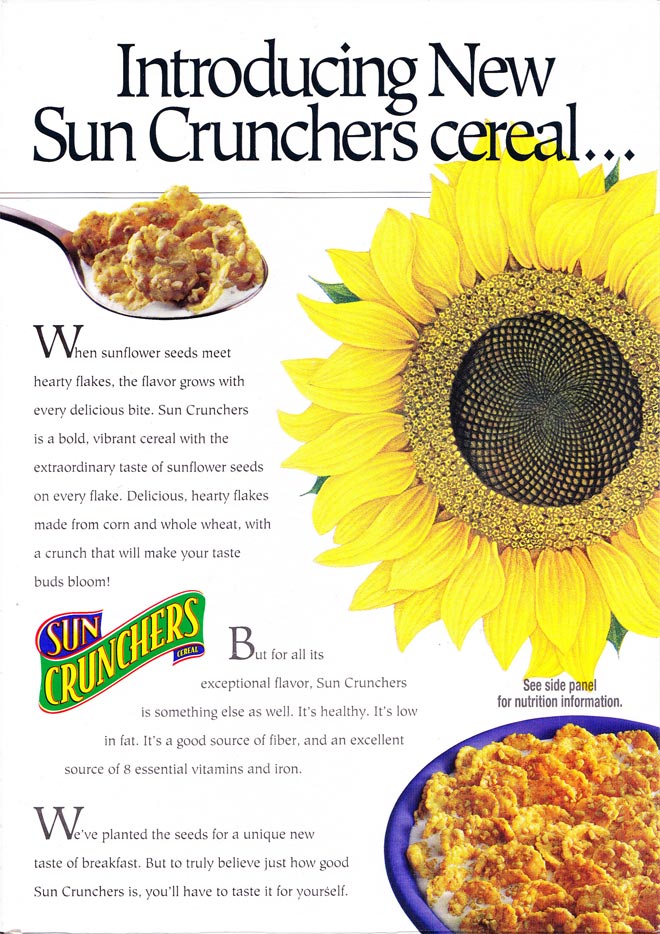 The first 8 ingredients listed on the nutritional panel were corn meal, whole wheat, sugar, sunflower seeds, brown sugar syrup, salt, honey and baking soda.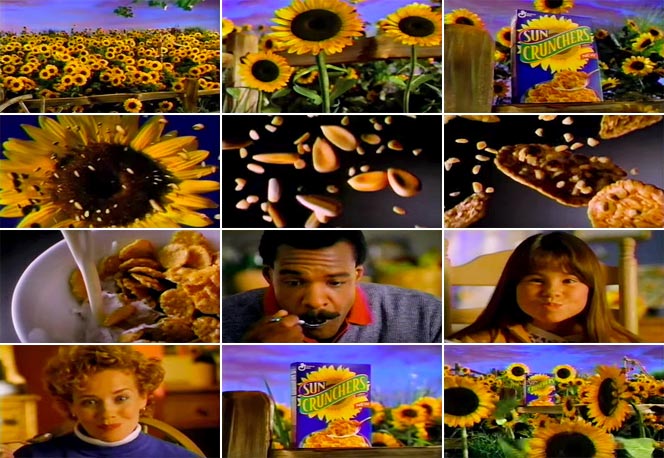 A 1994 TV commercial introducing the cereal had the following voice-over:
"Have you noticed that sunflowers are standing a bit taller lately? It's 'cause they're the secret to the great taste in new Sun Crunchers cereal. Sun Crunchers... the only cereal that's bursting with crunchy bits of toasted sunflower seeds... wrapped around hearty flakes of wheat and corn... all lightly sweetened for that Sun Crunchers taste everybody's gonna love. New Sun Crunchers... taste the SUNsation."
Click here
to see all cereals from General Mills.
---
Sun Crunchers Cereal Theater

Now Showing: 1994 Sun Crunchers Cereal Ad
---
Comments About This Cereal
What do you think of Sun Crunchers?

Overall Average Rating = 5 (out of 5)

By Sue


| | |
| --- | --- |
| Cereal Rating (out of 5): | |

I loved this cereal. Wish they would bring it back.

Comment submitted: 5/27/2020 (#25207)



By Sue


| | |
| --- | --- |
| Cereal Rating (out of 5): | |

I loved this cereal. I wish they'd bring it back.

Comment submitted: 11/17/2019 (#24674)



By Flash_80


| | |
| --- | --- |
| Cereal Rating (out of 5): | |

I have been looking for this cereal for years by entering the name into Google randomly when it popped into my mind. I typed it in today, got this result and almost cried! Hands down the best cereal of my childhood! I don't know why on Earth they would discontinue it. If God really exists, he will bring this back to humanity one day.

Comment submitted: 7/2/2019 (#24287)



By LovinSpoonful


| | |
| --- | --- |
| Cereal Rating (out of 5): | |

This was the best cereal I ever had; many a wonderful bowl was had, offering sublime and beautiful crunch, wheat, corn, seed, sugar heaven. Viva Sun Crunchers!

Comment submitted: 8/28/2018 (#23409)



By Ben-6


| | |
| --- | --- |
| Cereal Rating (out of 5): | |

I am still bothered by the loss of this cereal. Once I discovered it, no other cereal could compete. I ate it daily from finding it until no more could be found. Make it again I promise to buy it by the case.

Comment submitted: 1/26/2018 (#22656)



By Deb


| | |
| --- | --- |
| Cereal Rating (out of 5): | |

I really liked this cereal. Does General Mills still make it?

Comment submitted: 1/1/2018 (#22567)



By Betsy


| | |
| --- | --- |
| Cereal Rating (out of 5): | |

It was hands down one of the best tasting cereals I've ever eaten! I can't find it anymore and have no idea why? PLEASE BRING IT BACK!

Comment submitted: 12/29/2017 (#22560)



By TxMtnHkr


| | |
| --- | --- |
| Cereal Rating (out of 5): | |

Loved this cereal - unfortunately, I don't think it is around anymore. Wish it would come back!

Comment submitted: 6/1/2017 (#21843)





By CerealCrusher (Team Breakfast Member)

Sooooo... do they still make this (or does anyone)? I'd like to give it a go.

Comment submitted: 7/29/2016 (#20634)