F Cereals
123 cereals start
with the letter
"F"

CEREALS LISTED ALPHABETICALLY: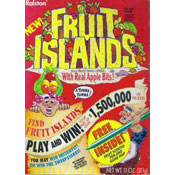 Featured "F" Cereal:
Fruit Islands
Fruit Islands was described on the box as a "new sweetened cereal with real apple bits! All natural cherry, orange, lemon & other fruit flavors." The cereal's big Hawaiian mascot was named King Ayumayma...
Read More
Other Featured "F" Cereals:






More Cereals That Start with "F"