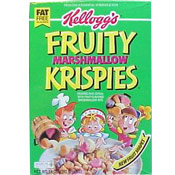 From: Kellogg's
Introduced in 1987
This "frosted rice cereal with fruit-flavored marshmallow bits" first hit stores around 1987. It was promoted on the box as being "high in vitamin nutrition" with "natural fruit flavor". Advertisements for the cereal featured the somewhat uninspired slogan, "Mmmmm.... how fruity!"
Initially, the cereal's marshmallow pieces came in primarily-round, nondescript shapes and four flavors: orange, lemon, raspberry and grape.
In 1992-93, Kellogg's conducted a special project called the "Fruity Marshmallow Krispies Restage". The project was projected to triple sales of the cereal with an incremental $11.4 million marketing budget. At this time, the shapes of the marshmallows were changed to resemble fruit and banana marshmallow were added.
Several accounts both prior to and following the "restage", indicate that the fruity taste of the cereal was particularly strong. Those critical of the cereal have described it as "too fruity", while others made mention that the combination of marshmallows and Rice Krispies created an unpleasant mushy texture when soaked in milk.
The "mushy" criticism is somewhat ironic considering that the cereal's mascots Snap! Crackle! and Pop! were introduced to most of the world battling characters named Soggy and Mushy in a series of 1939 short films.
In 1988, some boxes of Fruity Marshmallow Krispies were recalled when it was found that small plastic binoculars contained as prizes posed a potential chocking hazard to children under the age of three. No complaints of actual injuries involving the binoculars were ever been reported.
In his 2005 book "Don't Eat This Book", author Morgan Spurlock ridiculed Fruity Marshmallow Krispies for promoting itself as "fat free" and "heart smart" in the early 90's . According to Spurlock, a seemingly un-ethical fund raising project for the American Heart Association in 1989 made it easier for sugary cereals to make such box-front claims.
A single serving of Fruity Marshmallow Krislpies contained a whopping 17 grams of sugar and hardly a trace of fiber. On the plus side, it did contain less than 1 gram of fat. In 1988, a document called the Environmental Nutrition newsletter called Fruity Marshmallow Krispies the worst cereal out of 123 cereal analyzed for bran content versus sugar.
The cereal made a slow withdrawal from supermarket shelves in the late 1990's.
Seeking verification:
Before Kellogg's introduced Fruity Marshmallow Krispies, they had another cereal called Marshmallow Krispies. The two cereals were similar in both packaging and the actually look of the cereal... right down to the marshmallow shapes. Some reports indicate that Marshmallow Krispies transformed into - and were replaced by - Fruity Marshmallow Krispies. At this writing, we have no clear verification as to whether these two cereal existed on supermarket shelves at the same time.
We do know that Fruity Marshmallow Krispies outlasted it's marshmallow predecessor. Kellogg's 10K report for 1993 lists their ownership of the brand names for both cereals. The 10K report for the following year lists only the fruity cereal.
Click here
to see all cereals from Kellogg's.
This cereal belongs to the following Mr Breakfast Cereal Families:

---
Featuring: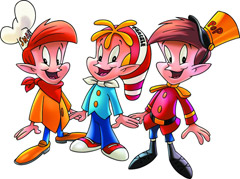 Snap! Crackle! and Pop!

These three magical gnomes were the first mascots to ever represent a Kellogg's product. While they were created as a team by illustrator Vernon Grant in 1932, only Snap! (then unnamed) appeared on the first box to make use of the characters (1933).

Over the next decade, the three would appear together in print ads and animated shorts called "Breakfast Pals". Still, It wasn't until the mid-40's that they first appeared as a threesome on the front of a Rice Krispies box.
---
Fruity Marshmallow Krispies Cereal Theater

Now Showing: 1939 Breakfast Pals Short Featuring Snap, Crackle And Pop
---
Additional Images
Fruity Marshmallow Krispies Magic Box
Submitter: jeffrey
Uploaded: 11/27/2010
Additional details
Fruity Marshmallow Krispies Stickers
Submitter: leprican_katie
Uploaded: 6/13/2008
Additional details
Two Boxes Of Fruity Marshmallow Krispies
Submitter: Mr Breakfast
Uploaded: 3/13/2008
Additional details
---
Comments About This Cereal
What do you think of Fruity Marshmallow Krispies?

Overall Average Rating = 5 (out of 5)

View all 36 comments for this cereal.


By SMarie


| | |
| --- | --- |
| Cereal Rating (out of 5): | |

I wish they would bring back this cereal! It was my favorite as a kid.

Comment submitted: 10/5/2017 (#22313)



By The Ritty


| | |
| --- | --- |
| Cereal Rating (out of 5): | |

I believe Marshmallow Krispies and Fruity Marshmallow Krispies co-existed for a bit, because I remember liking the non-fruity kind better.

Comment submitted: 1/2/2017 (#21198)



By K.J.


| | |
| --- | --- |
| Cereal Rating (out of 5): | |

I miss this cereal! Bring them back!

Comment submitted: 11/16/2016 (#21048)



By Steve-Os

These sounded good. Too bad I was too young to eat sweetened cereals back then. I wish I was born earlier in the 80's to try these.

Comment submitted: 7/10/2016 (#20550)



By telesitaxhula


| | |
| --- | --- |
| Cereal Rating (out of 5): | |

I want this cereal back. I remember the taste still. It was the best. Please bring it back.

Comment submitted: 5/10/2016 (#20283)





By Krispies75 (Team Breakfast Member)

Was it a dream? Are they back? I think that my daughter saw them on TV this morning... cross your fingers and click your heels...

Comment submitted: 4/13/2016 (#20179)



By bookofsnow


| | |
| --- | --- |
| Cereal Rating (out of 5): | |

I also mix the marshmallows you can buy alone with regular Rice Krispies and it does give a flashback to this cereal but it isn't the same. The marshmallows were little circles and had a very unique taste.

Comment submitted: 1/10/2016 (#19827)



By Fruity Judy


| | |
| --- | --- |
| Cereal Rating (out of 5): | |

They need to bring this back!

Comment submitted: 2/18/2015 (#18558)



By bcurry


| | |
| --- | --- |
| Cereal Rating (out of 5): | |

I talk about this cereal all the time! I would be over the moon if they brought it back, unchanged and original. SO GOOD!! :)

Comment submitted: 7/28/2014 (#17423)



By Kcereal


| | |
| --- | --- |
| Cereal Rating (out of 5): | |

I loved this cereal. I wish they would bring it back!

Comment submitted: 6/20/2014 (#17219)



View all 36 comments for this cereal.