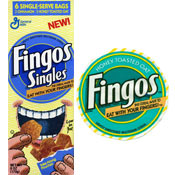 From: General Mills
Introduced in 1993
Fingos were billed as "the cereal made to eat with your fingers!" The New York Times described them as "oversized chip-like flakes." The Knight Ridder/Tribune News Service called them "cookies in disguise." The cereal was launched in August of 1993 with a $34 million advertising and promotional campaign.
Fingos were promoted in commercials by a fast-talking "spokes-box." The box would wise-crackly refer to itself, as in "How wholesome am I? Read my hips."
The cereal was not a success.
According to Tom Humbarger, author of the blog
Social Media Musings
:
"It just so happens that FING is the Hungarian word for passing gas. And that FINGOS (pronounced "fingosh") translates in Hungarian to "He farts a lot".
One of the initial boxes of Fingos, described the product like this:
"Introducing a whole new way to eat cereal... Fingos.
"Many Americans start their day with cereal. That's because it's delicious and one of the most nutritious breakfast foods you can eat. Now there's a whole new way to enjoy cereal away from the breakfast table.
"Introducing Fingos.
"Fingos is a deliciously crunchy new cereal you eat with your fingers right out of the box without a bowl or spoon. You get a hearty grain taste in every crispy bite. And it provides 25% of your daily requirements of 7 essential vitamins and iron. It's irresistibly munchable... just one taste and you'll be reaching for more.
"Anytime. Anywhere.
"Fingos is so convenient, you can have it anytime, anywhere for breakfast, lunch, dinner or in-between. Eat it at home, work, in the car or straight out of your lunchbox. Yes, Fingos is the perfect way to get more wholesome cereal into your life. Try both flavors, Cinnamon and Honey Toasted Oat."
Click here
to see all cereals from General Mills.
---
Fingos Cereal Theater

Now Showing: 1993 Fingos Cereal Commercial
---
Additional Images
---
Comments About This Cereal
What do you think of Fingos?

Overall Average Rating = 5 (out of 5)

By Crash K.


| | |
| --- | --- |
| Cereal Rating (out of 5): | |

I LOVE this! I knew from way back that "fingo" translates from English into... FART. When Fingos cereal hit the market, I was elated. When Fingos ran out of gas and ceased production, I was deflated. Eventually I recovered. Thanks for reading this drivel. PS: I'm Hungarian.

Comment submitted: 2/1/2019 (#23909)



By Mike M.


| | |
| --- | --- |
| Cereal Rating (out of 5): | |

Fingos were great. I remember being upset when they went away.

Comment submitted: 4/25/2015 (#18939)



By Los Faz

What a gas! I totally remember this. The texture was like the Special K snack crackers they sell today, but the taste was sweeter and more like breakfast cereal.

Comment submitted: 6/15/2012 (#8029)



By 80schild


| | |
| --- | --- |
| Cereal Rating (out of 5): | |

I remember these. I also remember being upset when the discontinued them. I was 18 when they came out the were great for a breakfast on the run when I was trying to get across town being near late for work.

Comment submitted: 12/22/2010 (#3469)



By Czagy

When I was a little fart, my sibs & cousins would laugh ourselves sick over "You let a fingo!" That was our brand of humor. So naturally, many-many years later, when this cereal entered the market back in the 90s, I laughed all day! Because I knew full-well that the name meant "passing gas" in Hungarian. Yes, I'm of Hungarian ethnicity. And I'm still laughing.

PS: I Never ate a Fingo.

Comment submitted: 8/6/2010 (#2607)



By hammer

Nobody remembers about Fingos when ever I bring it up. I liked those cinnamon flavored ones... yuummyy... with or without milk.

Comment submitted: 6/12/2010 (#2279)



By CoronaGirl


| | |
| --- | --- |
| Cereal Rating (out of 5): | |

My brother promoted this cereal. We had samples like crazy. I loved it. Everyone did... they should bring them back since in Nov 2010 they will make Marijuana legal... they will sell FINGOS like crazy... Angie... Sunny San Diego!!!! 619 baby

Comment submitted: 4/8/2010 (#1864)



By lacy


| | |
| --- | --- |
| Cereal Rating (out of 5): | |

I want Fingos back... even though I must have been the only one buying them!

Comment submitted: 2/23/2010 (#1474)