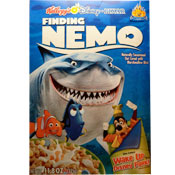 From: Kellogg's
Introduced in 2003
The complete name of this cereal was Kellogg's Disney-Pixar Finding Nemo Cereal. It's release coincided with the theatrical run of the animated film from Disney-Pixar titled "Finding Nemo".
The cereal was promoted on the box as a "Naturally Sweetened Oat Cereal with Marshmallow Bits!" The colorful marshmallow pieces were shaped like fish characters from the film. The regular cereal pieces were Cheerio-colored stars with holes in the center. The cereal was said to taste similar to Lucky Charms cereal with more marshmallows.
The initial box for the cereal featured the film characters Nemo, Dory and Squirt (a clownfish, a blue tang fish and sea turtle, respectively). A later rendition of the box featured a menacing shark character named Bruce. There have also been reports of a box featuring another turtle character named Crush, but MrBreakfast.com is unable to verify the existence that box at this time.
A television ad for the cereal featured animatronic shark characters in a kitchen setting. A young male shark was shown looking at the cereal box saying, "Fish are friends not food." As he samples the cereal, his mother says, "What'd you say honey?" to which the youngster replies, "Nothing mom."
Kellogg's also promoted the "Finding Nemo" film on other boxes of their cereals. A promotion that appeared on boxes of Frosted Flakes resulted in a law suit from toy manufacturer Hasbro. Kid's buying Frost Flakes were encouraged to cut out 16 cards on the back of the box featuring 8 characters from the movie. The cards were then to be placed face-down and kids were supposed to remember which cards had which character and create pairs from memory. Hasbro alleged that the game's rules too-closely resembled the rules of their 1960's game Memory and those of a "Finding Nemo" memory-match game that the toy company was producing at the same time as the Frosted Flakes promotion.
In 2016, a sequel to "Finding Nemo" was released called "Finding Dory". That year, Kellogg's introduced
Finding Dory Cereal
.
Click here
to see all cereals from Kellogg's.
This cereal belongs to the following Mr Breakfast Cereal Families:

---
Finding Nemo Cereal Theater

Now Showing: Finding Nemo Cereal Ad
---
Additional Images
Finding Nemo Incredibles Promotion
Submitter: leprican_katie
Uploaded: 7/8/2008
Additional details
Finding Nemo Box: Bruce The Shark
Submitter: Mr Breakfast
Uploaded: 3/18/2008
Additional details
Finding Nemo Box: Nemo & Marlin
Submitter: Mr Breakfast
Uploaded: 3/18/2008
Additional details
---
Comments About This Cereal
What do you think of Finding Nemo?
By coolie

I love Nemo!

Comment submitted: 8/23/2009 (#379)