Y Cereals
4 cereals start
with the letter
"Y"

CEREALS LISTED ALPHABETICALLY: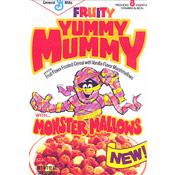 Featured "Y" Cereal:
Yummy Mummy
Yummy Mummy was a "fruit flavor frosted cereal with vanilla flavor marshmallows". The yellow marshmallow pieces seemed to resemble the shape of a head. On some of the cereal boxes, they were referred to as "monster mallows". The other cereal pieces were red and orange...
Read More
Other Featured "Y" Cereals:






More Cereals That Start with "Y"