G Cereals
88 cereals start
with the letter
"G"

CEREALS LISTED ALPHABETICALLY: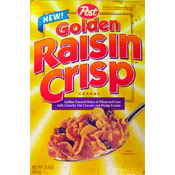 Featured "G" Cereal:
Golden Raisin Crisp
From
Post
; Introduced in 1995
The back of the introductory box described the cereal like this: "Finally... a raisin cereal where the cereal is as exciting as the raisins. With most raisin cereals, the raisins are the best part. But with Post Golden Raisin Crisp... you'll love the delicious, crispy, crunchy cereal as much as the raisins! That's because...
Read More
Other Featured "G" Cereals:






More Cereals That Start with "G"