G Cereals
88 cereals start
with the letter
"G"

CEREALS LISTED ALPHABETICALLY: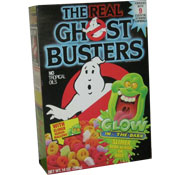 Featured "G" Cereal:
Ghostbusters
To get the most out of their rights to use the
Ghostbusters
brand, Ralston introduced three cereals over the course of a few years: Ghost Busters, The Real Ghost Busters and Slimer! And The Real Ghostbusters. All three cereals appear to have been...
Read More
Other Featured "G" Cereals:






More Cereals That Start with "G"