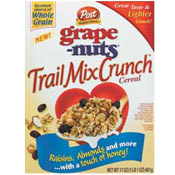 From: Post
Introduced in 2006
This cereal was introduced with the following descriptive text on the box: "great taste & lighter crunch... excellent source of whole grain... raisins, almonds and more... with a touch of honey."
The cereal was later renamed Raisin & Almond Trail Mix Crunch to distinguish it from other flavors of the cereal line that were subsequently produced.
Company Description:
Founded by C.W. Post, the company began in 1895 in Battle Creek, Michigan under the name Postum Cereals. Their first product was a coffee substitute called Postum. The first breakfast cereal to come from the company was Grape-Nuts in 1897...
Read on and see all cereals from Post

Grape-Nuts Trail Mix Crunch Cereal has been reviewed on MrBreakfast.com.
Click here to read the review
.
---
Comments About This Cereal
What do you think of Grape-Nuts Trail Mix Crunch?

Overall Average Rating = 5 (out of 5)

By R.B.M.


| | |
| --- | --- |
| Cereal Rating (out of 5): | |

Why is it that companies come out with awesome products like this one and then discontinue it. I realize that it has to be somewhat profitable but when they have something this good, even if it isn't a top seller, think what it does for the brand name. If they want to continue to have people look up to the name 'Post', they should give customers what they want!

Comment submitted: 3/5/2015 (#18677)



By dano


| | |
| --- | --- |
| Cereal Rating (out of 5): | |

Please bring back the Trail Mix Crunch. It was my favorite.

Comment submitted: 2/24/2014 (#16153)



By Wendy E.


| | |
| --- | --- |
| Cereal Rating (out of 5): | |

I'm devastated! I ate this cereal 3 times a day during my pregnancy. It was my absolute favorite! Please bring it back! =0(

Comment submitted: 5/2/2013 (#11900)



By Ali


| | |
| --- | --- |
| Cereal Rating (out of 5): | |

I don't know why they discontinued this cereal. It was the best. I love original Grape-Nuts but it takes effort to prepare (something to sweeten it, add some berries if I have them, let the milk soak in for a good while, etc).

Comment submitted: 3/30/2013 (#11451)



By Om Nom


| | |
| --- | --- |
| Cereal Rating (out of 5): | |

It was discontinued... so sad... it was my favorite too. I wrote to the people at Post and they said they don't... and won't make it anymore.

Comment submitted: 2/2/2013 (#10615)



By ChrisGPILF


| | |
| --- | --- |
| Cereal Rating (out of 5): | |

Run, don't walk to the nearest store selling it and buy every box you can find. This fantastic cereal is disappearing from shelves around the country and I can't figure out why. If there was ever a food that needs to be free sample marketed, it is this one. CAUTION: Once you have tried this unbelievably good cereal, you will never look back. Unless all you local stores quit carrying it... then you will embark on a quest to find it that makes Lord of the Rings look like a day trip. Have I mentioned how delicious this is? Start your day with a bowl of this and its like winning the lottery for your taste buds...not some scratch off either... it's the Powerball of breakfast cereals. You will buy bigger bowls...

Comment submitted: 5/3/2012 (#7546)



By dee3


| | |
| --- | --- |
| Cereal Rating (out of 5): | |

I can't find it either and it's my favorite too!

Comment submitted: 4/7/2012 (#7083)



By tweety


| | |
| --- | --- |
| Cereal Rating (out of 5): | |

Were can I get this cereal? I can no longer can find it.

Comment submitted: 3/11/2012 (#6802)



By fennario


| | |
| --- | --- |
| Cereal Rating (out of 5): | |

It is fabulous. But are they still making it? I can't find it in the store so I ordered 4 boxes from Amazon.

Comment submitted: 2/23/2012 (#6595)