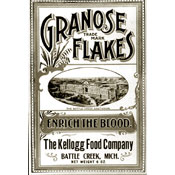 From: Kellogg's
Introduced in 1895
This cereal was created by Dr. John Kellogg. When conceived, it consisted of boiled wheat that had been run though a pasta-flattening device. Once baked, the wheat berries had a semi-crispy, flaked texture and appearance.
Granose is widely considered to be the first flake cereal ever created.
To sell the cereal, the doctor created the Sanitas Food Company. Granose Flakes were later sold under the Kellogg's name, after the Kellogg's Food Company was founded in 1906.
There are conflicting stories as to the cereal's origins from Dr. John Kellogg and his brother Will Keith Kellogg. In version one, Dr. John Kellogg simply takes all the credit.
Version two is slightly more fun. According to Will Keith Kellogg, he was assigned by his brother to develop a bread substitute to compete with Shredded Wheat which had just become popular in the U.S.
Experiment after experiment failed. Exhausted, Will Keith called it quits one night - inadvertently leaving a batch of wheat soaking in water overnight.
For kicks, Will Keith ran the soaked cereal through machine rollers. To his delight, he found that the individual wheat berries came out of the rollers in the shapes of individual flakes. To his double-delight, he found that they were crisp and tasty after baking.
- - - - - - - - - - - -
Dr. John Kellogg is often relegated to history as a bowel-obsessed quack, thanks in great part to Anthony Hopkin's portrayal of the doctor in the film
The Road To Wellville
. The fact is that Dr. Kellogg was considered a great doctor in his day, no quackier than other doctors of the late 1800's, who were almost all bowel-obsessed quacks.
However in the annals of cereal history - for all his great offerings - Dr. John Kellogg was a sort of quack.
When he (and/or his brother) created the first-ever wheat flakes, Dr. John wanted to crumble the flakes and sell them as crumbs. It took the foresight of his brother Will Keith to sell the cereal as flakes.
Company Description:
Kellogg's was originally founded as the Battle Creek Toasted Corn Flake Company in 1906. The company's founder Will Keith Kellogg is credited with inventing corn flakes along with his brother John Harvey Kellogg. The company was renamed the Kellogg Company in 1922...
Read on and see all cereals from Kellogg's
---
Comments About This Cereal
What do you think of Granose Flakes?

Overall Average Rating = 4 (out of 5)

By WestOz


| | |
| --- | --- |
| Cereal Rating (out of 5): | |

I loved this cereal as a kid, I think it was off the shelf by the time I was in my early 20's (I'm 59 now...), sorry to see it gone. As for DuanEdwarDimock's comment, Granose was still around circa 1980, so maybe Old Time isn't as old as you might think? Anyway, as I remember it had a more distinctive flavour and it was more expensive than the similar weet-bix and vita brits, perhaps that was the reason for its demise.

Comment submitted: 10/3/2019 (#24572)



By DuanEdwarDimock


| | |
| --- | --- |
| Cereal Rating (out of 5): | |

Hmmmm, seems like Old Time must be the oldest person in the world. What a memory, from 110 years ago!

Comment submitted: 2/5/2019 (#23913)



By Old Time


| | |
| --- | --- |
| Cereal Rating (out of 5): | |

This was the BEST breakfast cereal. I am devastated that it is no longer available. It had a flavor not as harsh as Weet Bix, more delicate and very tasty. I often ate it dry with butter and jam as a snack after school. With milk for breakfast it was a great start to the day.

Comment submitted: 3/16/2014 (#16372)