M Cereals
124 cereals start
with the letter
"M"

CEREALS LISTED ALPHABETICALLY: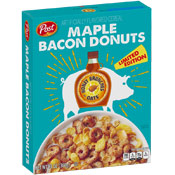 Featured "M" Cereal:
Maple Bacon Donuts
From
Post
; Introduced in 2019
This limed edition cereal is expected to only be available at Walmart, Giant Eagle, Woodman's and Riesbeck's stores. It's part of Postís Honey Bunches of Oats line of cereals. The official release date for the product is March 7, 2017 which is National Cereal Day in the U.S. The cereal consists of donut shaped rings sprinkled with specks of "bacon" along with...
Read More
Other Featured "M" Cereals:






More Cereals That Start with "M"