M Cereals
123 cereals start
with the letter
"M"

CEREALS LISTED ALPHABETICALLY: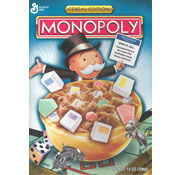 Featured "M" Cereal:
Monopoly
The front of the cereal box showed the Monopoly game's mascot, Rich Uncle Pennybags (aka Mr. Monopoly), holding up a card the read, "Delicious Indeed. Own it all!... sweetened wheat & rice cereal with marshmallow deeds, houses and hotels...
Read More
Other Featured "M" Cereals:






More Cereals That Start with "M"