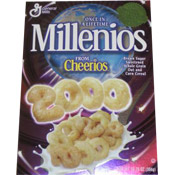 From: General Mills
Introduced in 1999
Millenios was a limited edition Cheerios cereal with traditional donut-shaped Cheerios pieces and new whole-grain pieces shaped like the number "2". The text on the box read, "once in a lifetime" and "brown sugar sweetened whole grain oat and corn cereal".
The back panel suggested, "Create your own time capsule with this box" and included the following text:
Now's your chance to be part of history. Use this collectors Millenios box as your own unique time capsule to store your special mementos. We've provided some ideas to get you started, but use your imagination and leave behind a memory to share in the future!
The mementos suggested above that text were newspaper & fashion clipping, favorite music, coins and stamps, collectible toys and family videos and photos. The back panel also included a fill-in-the-blank note to describe your time capsule.
The side panel featured a "Millenios Predictions" fill-in-the-date section. Samples: "Researchers will find a cure for the common cold by ____." and "By ____, people will be wearing special suits that allow them to fly."
On September 8, 1999, General Mills issued the following press release about Millenios cereal:
Dick Clark 'Counts Down' to Introduce the 'Official Cereal of the Millennium' in Times Square


Today, hundreds of New Yorkers, Dick Clark and a giant New Year's ball were in Times Square for a pre-New Year's Eve countdown to introduce Millenios -- "The Official Cereal of the Millennium."

The crowd counted down with Dick Clark as the ball slowly made its dissent. Amidst confetti and noisemakers, the ball opened to reveal the limited-edition Millenios box.

"I can't think of a better place than Times Square to introduce the cereal created by General Mills to celebrate the new millennium," said Dick Clark after fine tuning his countdown technique.

At the event, Dick Clark signed a box of Millenios as part of an effort to announce an online charity auction on eBay to benefit local chapters of Big Brothers Big Sisters (BBBS).

General Mills is expecting more than 100 celebrities to autograph Millenios cereal boxes for the auction. A wide variety of celebrities are supporting the charitable auction including sports legends, representatives from the music industry, models, television personalities, movie stars and other notable personalities.

Beginning today, people can log onto www.ebay.com to participate in the auction. Celebrity autographed boxes will be posted for 10 days, and new boxes will be added regularly. All proceeds from the auction, as well as a $25,000 donation from General Mills and the General Mills Foundation, will go to local chapters of BBBS, the nation's largest one-on-one youth mentoring program in the country.

General Mills also has introduced new, unique packaging for Millenios using metallic ink. The eye-catching, interactive box is designed to become a time capsule that can be used to store extraordinary memories of special people, places and things. There is also a place on the box to record predictions for the next millennium, as well as a place to note "where you were on December 31, 1999 at 11:59 p.m."

As part of the Millenios introduction, General Mills has posted a billboard in Times Square for the first time ever. Located on the "rounder" above the Marriott Marquis Hotel, the more than 1.5 million people who pass by everyday will be asked, "Is Your Cereal Bowl Y2K Ready?" The billboard will be posted during September and October.

"The introduction of Millenios is a once-in-a -lifetime event that begged for a first in General Mills marketing," said Mark Addicks, vice president of Cheerios Cereal Division. "The high traffic in Times Square, coupled with the excitement generated by this event, made the decision to post a billboard a logical choice for us."

Millenios is a limited-edition, once-in-a-lifetime cereal manufactured by General Mills, the maker of Cheerios(R). Millenios will hit grocery store shelves beginning September 20 and are expected to be sold out by January 1, 2000. The brown-sugar sweetened, whole-grain oat and corn cereal has the famous Cheerios "Os" along with crunchy cereal bits in the shape of the number "2." Millenios will be available in a special 10 3/4 oz. box with a retail value of $2.49.

Cheerios is a global leader in the cereal industry. Introduced in 1941, Cheerios is the No. 1 franchise in the ready-to-eat cereal category. Products include Cheerios(R), Honey Nut Cheerios(R), Apple Cinnamon Cheerios(R), Frosted Cheerios(R), Team Cheerios(R), and Multi-Grain Cheerios(R).
Click here
to see all cereals from General Mills.
---
Additional Images
1999 Millenios Cereal Box - Back
Submitter: CornFlake
Uploaded: 10/13/2008
Additional details
1999 Millenios Cereal Box - Front
Submitter: CornFlake
Uploaded: 10/13/2008
Additional details
---
Comments About This Cereal
What do you think of Millenios?

Overall Average Rating = 5 (out of 5)

By donLT4gone


| | |
| --- | --- |
| Cereal Rating (out of 5): | |

So far, my favorite cereal of all time! I ate no other cereal while it was available, then found it in a surplus store and bought 2 grocery carts full! This lasted me another 14 months. I have one unopened box left, wrapped in plastic, in my safe. Need I say more?

Comment submitted: 3/26/2015 (#18798)