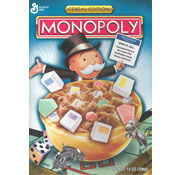 From: General Mills
Introduced in 2003
The front of the cereal box showed the Monopoly game's mascot, Rich Uncle Pennybags (aka Mr. Monopoly), holding up a card the read, "Delicious Indeed. Own it all!... sweetened wheat & rice cereal with marshmallow deeds, houses and hotels."
The cereal was produced via a license with Hasbro.
It's believed that this cereal was actually Cinnamon Toast Crunch with added marshmallows. The first 3 ingredients listed on the side panel were whole wheat, sugar and marshmallow bits.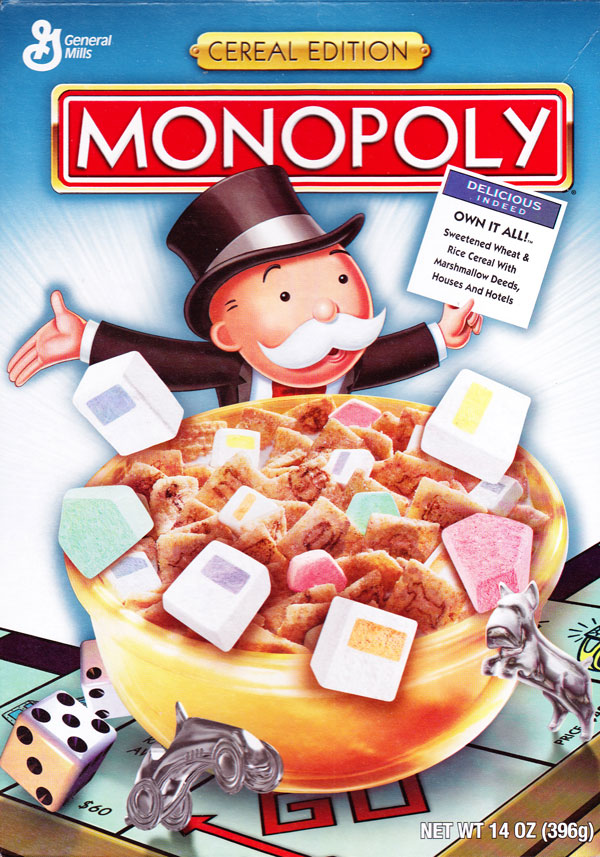 The box offered the following factoids about the Monopoly game:
"
Who's that guy again?
Ever wonder who that guy in the top hat is? His name is Mr. Monopoly. His wife's name is Madge. That guy in jail is Jake the Jailbird. And the policeman who sent him there is Officer Edgar Mallory.
"
Most Taken Tokens
Over the years, there have been more than 20 different Monopoly game tokens in the classic game. The top four of all-time are, in order, the Race Car, Top Hat, Dog and Iron. What's your favorite?
"
Another Factoid
We have made jewel encrusted games, chocolate games and even giant granite versions.
"
Secret Mission Monopoly Editions
During World War II, special Monopoly editions were smuggled across enemy lines. Inside were escape route maps, files, compasses and local currency to help captured soldiers.
"
Got Time For a Game?
Can you believe the longest game ever played lasted 70 straight days? The longest underwater game went 45 straight days and the longest game played upside down lasted 36 hours!"
Click here
to see all cereals from General Mills.
This cereal belongs to the following Mr Breakfast Cereal Families:

---
Additional Images
---
Comments About This Cereal
What do you think of Monopoly?

Overall Average Rating = 5 (out of 5)

By b. capshaw


| | |
| --- | --- |
| Cereal Rating (out of 5): | |

Looks fun! They should bring it back.

Comment submitted: 8/25/2018 (#23397)



By Amy-6


| | |
| --- | --- |
| Cereal Rating (out of 5): | |

Why does General Mills pull cereals like Monopoly that taste great? Do they still make it and how can I order it?

Comment submitted: 3/10/2017 (#21467)





By epic8toon (Team Breakfast Member)


| | |
| --- | --- |
| Cereal Rating (out of 5): | |

Easily the greatest cereal of ALL TIME. It was puffed cinnamon toast crunch pieces (like french toast crunch) as deeds and the marshmallow pieces (lucky charms) shaped like monopoly game pieces. BRING IT BACK!

Comment submitted: 7/6/2014 (#17295)



By Teddy Ray


| | |
| --- | --- |
| Cereal Rating (out of 5): | |

This was the best cereal ever! I wish it was still available, but it is possible to recreate it, now that you can buy bags of cereal marshmallows. I bought a bag from thinkgeek.com and bought a box of Cinnamon Toast Crunch and made my own Monopoly cereal! It was wondermous!

Comment submitted: 4/12/2014 (#16942)



By Bookman10


| | |
| --- | --- |
| Cereal Rating (out of 5): | |

Best cereal I ever tasted. It came and went too soon.

Comment submitted: 3/8/2014 (#16309)



By nostalgic hero


| | |
| --- | --- |
| Cereal Rating (out of 5): | |

These promotional cereals never last forever, although sometimes they will be re-released every few years... I loved this cereal and I love Monopoly... bring it back... Nostalgic B.Z.K. Hero signing out

Comment submitted: 2/15/2013 (#10833)





By McFlyJr1979 (Team Breakfast Member)

Never heard of it and I love this board game. One of the few actual "board games" I will play since technology took over. Now how about a "Bargain Hunter" cereal from the 70s! :-)

Comment submitted: 5/2/2012 (#7514)



By maddy79


| | |
| --- | --- |
| Cereal Rating (out of 5): | |

Why did they stop making it? It looks really fun. And... I think the idea of Cinnamon Toast Crunch with marshmallows sounds like a winner.

Comment submitted: 11/18/2011 (#5790)





By nrchill (Team Breakfast Member)


| | |
| --- | --- |
| Cereal Rating (out of 5): | |

This cereal came out a few years ago and was for sale for only $2.99! That was a great deal and when I bought it, everyone in my household loved it! I was buying it all the time but now you can't find this cereal anywhere! It just disappeared from the grocery store shelves never to be seen again! I was and still am disappointed about that! We need it back on our shelves for customers to enjoy!!!!

Comment submitted: 3/30/2011 (#4238)



By Ross


| | |
| --- | --- |
| Cereal Rating (out of 5): | |

Might be my all-time favorite cereal. A milder version of Cinnamon Toast Crunch enhanced by what might be the the most perfect marshmallows imaginable; someone at General Mills knew what they were doing when this recipe was conceived. It's a shame it doesn't exist in some iteration today, but such is usually the fate of cereals tied to an intellectual property, even one as beloved as Monopoly.

Comment submitted: 1/28/2010 (#1307)