P Cereals
88 cereals start
with the letter
"P"

CEREALS LISTED ALPHABETICALLY: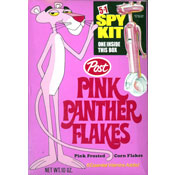 Featured "P" Cereal:
Pink Panther Flakes
From
Post
; Introduced in 1973
Post Cereals co-sponsored
The Pink Panther Show
, a Saturday morning kid's show, in 1972. This cereal was created as tie-in for that program.
The cereal consisted of bright, bubblegum-pink, sugar-coated corn flakes...
Read More
Other Featured "P" Cereals:






More Cereals That Start with "P"