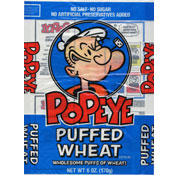 From: Quaker
Introduced in 1949
Forget spinach. Breakfast lovers know Popeye best from a line of discount-priced, bagged breakfast cereals that existed from 1949 to 1993 (possibly a little after). This particular cereal was once described on the package as "wholesome puffs of wheat" with "no salt - no sugar (and) no artificial preservatives added."
Dating the introduction of this cereal was tricky. In 1949, a company called Purity Mills was producing Popeye popcorn tins. By 1964, that company was making Popeye brand Puffed Wheat. We get that date from an early package that showed 1965 as an expiration date on an attached coupon.
Fortunately, shortly after I wrote and posted the paragraph above, I received a message from a former plant manager at Purity Mills. He informed me that the cereal was introduced in 1949.
Purity Mills became a subsidiary of Stokely-Van Camp in 1969. In 1983, Stokely-Van Camp became a subsidiary of Quaker. Under Quaker's ownership, the Popeye brand cereal continued to be sold and the line was expanded to include other value-priced cereals including
Popeye Sweet Crunch
, Popeye Sweet Puffs, Popeye Fruit Curls and
Popeye Cocoa Blasts
.
While the Popeye brand cereals are no longer with us, the companies associated with them continue to prosper. Of course, you know Quaker from a quarter of the cereals you see in the grocery store. Quaker sold the Van Camp portion of Stokely-Van Camp to ConAgra. You know them today from Van Camp's baked beans.
Click here
to see all cereals from Quaker.
This cereal belongs to the following Mr Breakfast Cereal Families:

---
Additional Images
---
Comments About This Cereal
What do you think of Popeye Puffed Wheat?

Overall Average Rating = 5 (out of 5)



By misspopeyes (Team Breakfast Member)


| | |
| --- | --- |
| Cereal Rating (out of 5): | |

Which store still sell it in Alabama? I can't can't find none.

Comment submitted: 2/5/2015 (#18488)



By Grateful


| | |
| --- | --- |
| Cereal Rating (out of 5): | |

I USED to have a candy recipe using Popeye Sweet Puffs cereal. The main ingredients were sweet puffs, butterscotch chips, peanuts, light Karo syrup and butter(?). That candy recipe appeared on the back of the cereal bag over 20 years ago and somehow, with a couple of moves to different homes, I lost the recipe. I've been searching for several years and still cannot find it. If anyone has it, I would be very grateful if you would be so kind to share it. THANKS SO MUCH!!!

Comment submitted: 1/6/2014 (#15650)



By kid24

I'm only 24 and I remember eating Quaker puff Wheats with powdered milk.

Comment submitted: 11/30/2013 (#15429)



By Info Please?

Does anyone know anything about Purity Mills when they had a factory in Chicago? The plant moved to Dixon in 1946.

Comment submitted: 3/18/2013 (#11294)



By ageless kid

Since this cereal is owned by Quaker... it happens to be the very same thing as Quaker Puffed Wheat.

Comment submitted: 1/22/2011 (#3675)





By tgdavis65 (Team Breakfast Member)


| | |
| --- | --- |
| Cereal Rating (out of 5): | |

Where can I buy it??

Comment submitted: 1/11/2011 (#3569)



By beneficiary

Can anyone tell me where to go for lost pensions. My father was a employer and back in 1969 when it was Purity Mills and then Stokley Van Camp. Been searching for long time I am the beneficiary. cocoapuffs45@yahoo.com Please respond.

Comment submitted: 12/29/2010 (#3485)



By Postman


| | |
| --- | --- |
| Cereal Rating (out of 5): | |

I used to beg my parents to buy this cereal because Popeye was on it.

Comment submitted: 8/3/2010 (#2570)



By Popeye


| | |
| --- | --- |
| Cereal Rating (out of 5): | |

Having been the plant manager when the Popeye Brand cereals were first put on the market buy Purity Mills Inc. of Dixon, IL, a little history is involved. Before the plastics were involved in the cereal business a product called cellophane was used for the packaging of cereals by this company. In 1949, we introduced the cereal (Puffed Wheat and Rice) to the public in a 1 1/2 mil plastic bag. It went over so big that all the private label companies that we also packed for wanted the same thing. Stokely Van Camp in 1969 purchased Purity Mills from the Peterson Brothers and incorporated this factory into a separate division of Stokely. Business was increased to the point where an expansion was done to keep up with the demand. In 1983, Stokely Van Camp was purchased by Quaker Oats Co. and the Purity Mills Div. was closed with all production going to Cedar Rapids, Iowa. A little History sometimes does everyone some good.

Comment submitted: 7/3/2010 (#2392)