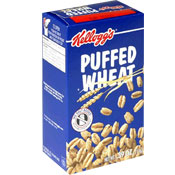 From: Kellogg's
The only ingredient in this cereal was wheat (and possibly vitamins). We've only seen this cereal in the U.S. offered in single serve boxes and believe it was produced mainly for hotels and the hospitality market.
We found one image of a full-size box from Australia from 1983. The following description is from that box:
A wholesome cereal with no added flavours or colouring.

The first serious breakfast that's light.

You're up. And ready to start the day. Start with a big burst of energy. And a great breakfast.

A wholesome bowl of wheat puffs splashed with fresh milk. Crunch into a delicious natural wheat taste.

Puffed Wheat is a good source of some essential vitamins. It'll get you going.

And remember, no added sugar and salt, flavours or colourings.

Puffed Wheat. It's the first serious breakfast that's light.

4 serious reasons why Puffed Wheat is good for you.

1. Puffed Wheat contains no sugar, artificial flavours, colorourings, sugar or salt.

2. Puffed Wheat contains the B group vitamins - thiamine, riboflavin and niacin - essential to a well-balanced diet.

3. Puffed Wheat contains protein for cell maintenance and growth. Protein is the source of some of the essential amino acids - the chemical building blocks of life.

4. Puffed Wheat contains carbohydrates which provide a high percentage of the energy people need.

And one not-so-serious reason: The delicious natural wheat flavor tastes terrific.
Company Description:
Kellogg's was originally founded as the Battle Creek Toasted Corn Flake Company in 1906. The company's founder Will Keith Kellogg is credited with inventing corn flakes along with his brother John Harvey Kellogg. The company was renamed the Kellogg Company in 1922...
Read on and see all cereals from Kellogg's
---
Comments About This Cereal
What do you think of Puffed Wheat (Kellogg's)?

Overall Average Rating = 5 (out of 5)

View all 45 comments for this cereal.


By Gamelyn Chase


| | |
| --- | --- |
| Cereal Rating (out of 5): | |

Tesco USED TO stock it! Sainsbury's still do - own brand. Why this corporate aversion to the product? It surely can't be the ''storage factor'' - all standard breakfast cereals take up much the same space in a warehouse.

Comment submitted: 5/7/2020 (#25140)



By Jb


| | |
| --- | --- |
| Cereal Rating (out of 5): | |

Please bring back Puffed Wheat and Puffed Rice. I love those cereals. The best. I been eating this since a long long time. And I haven't for a long time... months. I have searched for them. And I found this to beg for them to bring them back. Just repackage them and advertise them as organic and bingo and they will sell. Thank you. - Jacki

Comment submitted: 3/26/2020 (#25013)



By Postman


| | |
| --- | --- |
| Cereal Rating (out of 5): | |

I cannot find Quaker Puffed Wheat or Rice and do not ever remember seeing Kellogg's Puffed Wheat. One of the stores I shop at now carries the store brand of puffed wheat and rice. It's not as good but is better than nothing. It is in a bag not box.

Comment submitted: 2/25/2020 (#24926)



By macliam


| | |
| --- | --- |
| Cereal Rating (out of 5): | |

Sainsburys sell puffed wheat - their own brand. It's fine, it's what it should be, just Puffed wheat - and it's cheap!

Comment submitted: 2/21/2020 (#24916)



By Suzi

Kellogg's Smacks looks like puffed wheat! I loved puffed wheat which until recently we could buy in Northern Cyprus!

Comment submitted: 1/23/2020 (#24827)



By rmcollier


| | |
| --- | --- |
| Cereal Rating (out of 5): | |

Looking for this cereal. Bought the Arrowhead brand... and was not the same. The wheat was small and not very 'Puffy'. Why was this discontinued?

Comment submitted: 10/11/2019 (#24594)



By May


| | |
| --- | --- |
| Cereal Rating (out of 5): | |

Warehouse suppliers control what is on your grocery shelf. You can buy puffed wheat and puffed rice by case on internet. That is a lot of cereal for one person, before it goes stale. I shared my order with my brother. He died two years ago. Have not found anyone since to share with.

Comment submitted: 10/4/2019 (#24575)



By cerealkiller


| | |
| --- | --- |
| Cereal Rating (out of 5): | |

In view of some of the comments here. I fancied some puffed wheat. Imagine my surprise when I found out that it was unavailable at Tesco and maybe other stores as well. I have just been in touch with Tesco as to why they no longer sell puffed wheat as I had bought it from them in the past. It was a staple cereal throughout my life, (nearly 80). The young lady (21) I spoke to had never heard of it but had heard of sugar puffs, and could not find it on her system but said she would be on a mission to track it down. It has become an endangered species. What is the world coming to? A petition to bring it back is needed or a march on parliament. No ts in Submission.

Comment submitted: 9/14/2019 (#24503)



By Grammie

I agree. PLEASE BRING BACK PUFFED WHEAT. My 93 yr. old husband's (diabetic) favorite cereal. Can't find it anywhere. Please let me know if you know where I can buy or order cereal.

Comment submitted: 8/21/2019 (#24435)



By Monte Montana


| | |
| --- | --- |
| Cereal Rating (out of 5): | |

My husband and I grew up on PUFFED WHEAT - now it is almost impossible to find - when you do find it, it is a product of some company I never heard of and that makes me wonder about 'FLOOR SWEAPINGS'. Also we want the ORIGINAL PUFFED WHEAT, NO SUGAR ADDED. OMG, what is this thing with adding all this sugar to everything we eat. Please, I'd rather see this healthy cereal on the store shelves than the hundreds of toxic sugary alternatives - it also appears from previous comments from other consumers that we are not alone in wanting the original PUFFED WHEAT to return. My older brother would like this cereal, he's a diabetic and he enjoys PUFFED WHEAT too. Thanks for letting me air my feelings. PUFFED WHEAT FAN IN WINCHESTER, VIRGINIA

Comment submitted: 7/20/2019 (#24345)



View all 45 comments for this cereal.