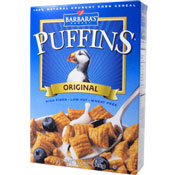 From: Barbara's Bakery
Introduced in 1995
The box for Original Puffins Cereal describes it as being high in fiber, low in fat and wheat-free. The top of the box-front also points out that each serving has 5 grams of fiber, 90 calories and 1 gram of fat.
The cereal pieces taste vaguely similar to Cap'n Crunch Cereal - but as you might expect from the claims on the box, the flavor is a bit more adult and healthy tasting than the famous kid's cereal. The first ingredient listed for Puffins is yellow corn flour, which explains occasional comparisons to another classic cereal called Corn Kix, as Kix was once called.
The back of the cereal box in 2008 explained how the cereal got its name:
How a Great Cereal Got a Great Name

Back in 1995, we needed a name for our newest all natural breakfast cereal. The puffy, crunchy pillows of corn, lightly sweetened with molasses were a cereal like no other. A longtime employee suggested the name Puffins in honor of the adorable little sea birds that she fell in love with on a trip to Alaska. The whimsical name rose to the top of the list and the rest is history.

As Puffins (the cereal) gained a national following, puffins (the birds) gained an active supporter in Barbara's Bakery - and a promised foothold on their Atlantic nesting ground thanks to Dr. Stephen Kress and his innovative restoration program, Audubon's Project Puffin. Now in its third decade, Project Puffin continues to help the Atlantic puffin population.
The box then goes on to further describe the birds and explains to those interested how they can adopt of bird through the Audubon project by sending in box tops. Those who really love puffins are also told they can buy a puffins tote bag, a puffins beanie and other puffins-related items by visiting the company's website.
In 2008, the cereal offered a send-away premium for a Puffins Hydration Kit. The kit consisted of a bottle of water, a Puffins pedometer and a fitness bookmark.
Puffins was part of an industry-wide push among smaller, independent cereal makers to equate natural cereals with environmental concerns. The movement began in the 1990's and continues today. While cereal like Puffins, Peace Cereal (who donate 10% of their profits to "peace") and the EnviroKidz label from Nature's Path may sometimes seem self-important and sanctimonious, they are keeping with a tradition that began with the very earliest breakfast cereals. Cereal, by the the very nature of it's name, is "of the earth" - a point that was often made in the marketing of early cereals. The addressing of environmental concerns by cereal companies today seems to be a natural progression of this connection between cereals and the goodness of earth.
Click here
to see all cereals from Barbara's Bakery.
---
Additional Images
---
Comments About This Cereal
What do you think of Puffins?

Overall Average Rating = 5 (out of 5)

By Sidra


| | |
| --- | --- |
| Cereal Rating (out of 5): | |

I live in Florida, and saw these in the clearance section at Publix. I love to eat crunchy cereals, and Puffins definitely fit the bill. I would also recommend Honey Graham Oh's if you like crunchy corn based cereal. -Sidra

Comment submitted: 1/31/2018 (#22680)



By Good Taste


| | |
| --- | --- |
| Cereal Rating (out of 5): | |

I like Puffins a lot, but they get soggy pretty quick and lack whole grain. Overall very tasty though!

Comment submitted: 11/18/2013 (#15346)



By CerealKiller9


| | |
| --- | --- |
| Cereal Rating (out of 5): | |

When I see this cereal, I also recall the mighty yet lovable seabird, the Arctic Puffin. And when I feast on Puffins, I imagine these seabirds feasting with me, ravenously tearing into the peanut-buttery goodness that all boxes of Peanut Butter Puffins Cereal contain. I give this cereal a rating of "awesome" because I can think of no other words to describe it but "awesome."

Comment submitted: 5/20/2013 (#12127)





By Bailey (Team Breakfast Member)


| | |
| --- | --- |
| Cereal Rating (out of 5): | |

I just bought a couple of sample packages a few weeks ago in Toronto and I think they are great, the amount of fiber is so good. I wonder if they ever send out coupons for them. I really would like to get more but find it a bit pricey. My email is nanhatfield@rogers.com.

Comment submitted: 5/25/2012 (#7739)



By Gates


| | |
| --- | --- |
| Cereal Rating (out of 5): | |

I love this cereal. I hope it never goes away.

Comment submitted: 8/13/2010 (#2646)



By drkcloud4u


| | |
| --- | --- |
| Cereal Rating (out of 5): | |

Puffins Original Cereal tastes just like Quakers Crunchy Corn Bran! Delicious!

Comment submitted: 2/16/2010 (#1437)