I Cereals
13 cereals start
with the letter
"I"

CEREALS LISTED ALPHABETICALLY: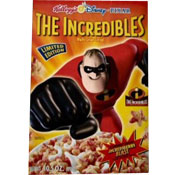 Featured "I" Cereal:
Incredibles
Kellogg's introduced this limited edition cereal in November of 2004 as part of deal with Walt Disney Pictures and Pixar Animation Studios. The cereal was based on the successful animated film "The Incredibles". In addition to the cereal, Kellogg's also produced limited edition "The Incredibles" Pop-Tarts and "The Incredibles" fruit snacks...
Read More
Other Featured "I" Cereals:






More Cereals That Start with "I"