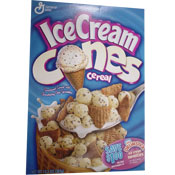 From: General Mills
Introduced in 1987
Ice Cream Cones cereal was available in two flavors: vanilla and chocolate chip. The cereals consisted of ice cream cone-shaped conical pieces and round Kix-esque pieces intended to resemble scoops of ice cream. If a cereal eater was so inclined, the scoop pieces actually fit comfortably on the cone pieces to create a tiny ice cream cone replica.
Both varieties of the cereal were said to taste similar to Cookie Crisp cereal. If the pieces were eaten separately, the scoop pieces were known to be intensely sweet and less flavorful than the cone pieces which actually tasted similar to to real ice cream cones.
Commercials for the cereal featured an animated soda jerk called Ice Cream Jones. Jones was customarily shown riding a bicycle with an ice cream freezer attached to the front. In the commercials, he would deliver Ice Cream Cones cereal to kids who were anxiously awaiting his arrival.
Ice Cream Cones / Ice Cream Jones Jingle
My name's Ice Cream Jones
I'm bringing the kids my Ice Cream Cones
A crunchy new cereal for breakfast
The great taste of ice cream cones
General Mills briefly reintroduced Ice Cream Cones Cereal in 2003 to celebrate the 100th anniversary of the first ice cream cone. According to Tommy Hillman, an associate marketing manager for the company at the time, "Ice cream cones have such a great connection with happy, carefree times. We're excited to offer a cereal that provides a fun new way to experience ice cream cones."
The revamped cereal was describer in a May 19, 2003 press release as featuring "crunchy mini ice cream cones along with chocolatey chip ice cream scoop pieces".
- - - - - - - - - - - - - -
The first box of Ice Cream Cones Chocolate Chip Cereal described itself like this:
"New Ice Cream Cones Cereal looks and tastes like ice cream cones! Chocolate Chip-flavored cereal scoops and crunchy cones bring the fun and great flavor of ice cream to your cereal bowl. You'll like it! And with the goodness of natural grains and added vitamins, mom will like it, too! Also available in great-tasting vanilla flavor."
Click here
to see all cereals from General Mills.
This cereal belongs to the following Mr Breakfast Cereal Families:

---
Ice Cream Cones - Chocolate Chip Cereal Theater

Now Showing: Ice Cream Jone Traffic Trouble Ad
---
Additional Images
---
Comments About This Cereal
What do you think of Ice Cream Cones - Chocolate Chip?

Overall Average Rating = 5 (out of 5)

By J.L.S.


| | |
| --- | --- |
| Cereal Rating (out of 5): | |

I still have passionate dreams of this cereal. Is that wrong?

Comment submitted: 5/24/2017 (#21803)



By Syn


| | |
| --- | --- |
| Cereal Rating (out of 5): | |

Oh they really need to bring this back. This was one of my top 3 favorite cereals.

Comment submitted: 9/11/2012 (#9093)



By Eddie


| | |
| --- | --- |
| Cereal Rating (out of 5): | |

I always loved this cereal. Mmmmmm. Please. Bring it back.

Comment submitted: 2/29/2012 (#6650)



By S.S. Skipper

I never saw this cereal in the grocery store, but the idea of ice cream cone shaped cereal pieces is brilliant.

Comment submitted: 2/1/2012 (#6384)



By Ice Cream Jones


| | |
| --- | --- |
| Cereal Rating (out of 5): | |

Heres the link to all 3 Ice Cream Cone commercials. That song he sings is so catchy.

http://www.youtube.com/watch?v=RlWzi0jhKZw

Comment submitted: 6/20/2011 (#5156)



By icecreamjones


| | |
| --- | --- |
| Cereal Rating (out of 5): | |

Bring this cereal back now. It's better than crack.

Comment submitted: 7/24/2010 (#2513)





By Mijuni (Team Breakfast Member)


| | |
| --- | --- |
| Cereal Rating (out of 5): | |

This Box Needs 2 be on shelves ASAP!

Comment submitted: 5/22/2010 (#2157)