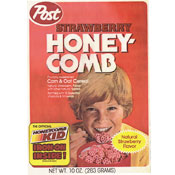 From: Post
Introduced in 1983
This cereal was described on the box as a "crunchy, sweetened corn & oat cereal - natural strawberry flavor with other natural flavors - fortified with 10 essential vitamins & minerals".
Known premiums: Honeycomb Kid Iron-On, Bike Racing Stickers and Bicycle License Plates.
In 2002 (almost 2 decades after this cereal came out), Post introduced
Strawberry Blasted Honey-Comb
which was a combination of Strawberry Honey-Comb and traditional Homey-Comb pieces. Most people who experienced both cereals agreed that 1983's Strawberry Honey-Comb was the better of the two.
Click here
to see all cereals from Post.
---
Strawberry Honeycomb Cereal Theater

Now Showing: 1983 Strawberry Honeycomb Ad
---
Additional Images
Strawberry Honeycomb - Bike Stickers
Submitter: jeffrey
Uploaded: 9/10/2010
Additional details
1983 Strawberry Honeycomb Cereal Box
Submitter: Mr Breakfast
Uploaded: 9/8/2008
Additional details
---
Comments About This Cereal
What do you think of Strawberry Honeycomb?

Overall Average Rating = 5 (out of 5)

View all 52 comments for this cereal.


By The Ritty

Never knew this existed. Sounds amazing.

Comment submitted: 1/2/2017 (#21187)



By Lindsaylou77


| | |
| --- | --- |
| Cereal Rating (out of 5): | |

MY ABSOLUTE FAVORITE... and I saw it in the store the other day grabbed what they had... now... I can't find it! Walmart here doesn't even have regular Honey Combs... what's up with that?! Kudos to Harvey's here in Waycross, GA for at least having my favorite cereal the first go around!

Comment submitted: 5/17/2016 (#20315)





By Bizarro (Team Breakfast Member)


| | |
| --- | --- |
| Cereal Rating (out of 5): | |

IT'S BACK!!!

I'm not kidding - I was in Meijer tonight and saw it sitting on the shelf, and my heart nearly stopped. I immediately grabbed two boxes and threw them in my cart, finished my shopping, and rushed home to pour myself a bowl.

Is it the same as it used to be? Honestly, I can't say with 100% certainty, as it hasn't been available since the late 1980s (to the best of my memory), but it IS most certainly delicious, unlike the Monster Cereals (which are a pale imitation of their ancestors due to an inexplicable change in formulation). Honey Comb's recipe and taste have remained largely unchanged over the years, so they really couldn't go wrong with adding strawberry flavor to it. I will say this: For the entirety of that first bowl, I felt like I was five years old again, and that is a good feeling.

I had been clamoring for the return of this cereal for a VERY long time, and after being teased with the "Strawberry Blasted" version several years ago (which I never bought, because it's not what I wanted) I had completely given up hope that my beloved cereal would ever return. Then, with absolutely no mutterings of its return, I just happened to see it while on a random shopping trip. It's strange - this is one of the very first cereals that I can remember eating (and cereal is practically my lifeblood), but I have trouble finding people around my own age who even remember that it existed.

Fret no longer, my friends - Strawberry Honeycomb is back, and now old and new generations alike can enjoy it. We have the power to make sure it stays on the shelves for good - buy as much as you can, as often as you can; tell everyone you know about it, and let Post know how much you love it!

Comment submitted: 1/7/2015 (#18325)



By kkakes


| | |
| --- | --- |
| Cereal Rating (out of 5): | |

Please, please, pretty please bring Strawberry Honeycomb back. I love this cereal! I can eat this for breakfast, lunch, snack, dinner and late night snack! I need this in my life. I want it in my life. Please put it back in my life and keep it in my life!

Comment submitted: 10/3/2014 (#17774)



By Keioshi


| | |
| --- | --- |
| Cereal Rating (out of 5): | |

Please, please, please... bring back the Strawberry Honeycombs. They are the best thing since sliced bread. This cereal is the best cereal I have ever eaten, and it's the only Honeycomb cereal I will eat. I miss the Strawberry Honeycombs so much. It's been 8 years. I believe it's time to bring it back but this time please make it permanent and not for a limited time.

Comment submitted: 5/16/2014 (#17057)





By jannolovely (Team Breakfast Member)


| | |
| --- | --- |
| Cereal Rating (out of 5): | |

They need to bring back the Strawberry Honeycomb. So delicious and it was the best cereal ever! Bring the cereal back. Lol please!

Comment submitted: 4/6/2014 (#16610)



By B.O.W.

They should bring Strawberry Honey Combs back. They were very good. I really enjoyed them so much.

Comment submitted: 2/13/2014 (#16033)



By Shiv


| | |
| --- | --- |
| Cereal Rating (out of 5): | |

I loved this cereal so much that I once went to the store and bought about 20 boxes at once. Strawberry Honeycomb has always been at the top of my favorite list. If they brought it back, I would go to the store to stockpile only this Honeycomb. I loved it!

Comment submitted: 11/17/2013 (#15339)



By Andante Hall


| | |
| --- | --- |
| Cereal Rating (out of 5): | |

Yeeeessss! I would do anything for a limited edition of this cereal again (not mixed with regular Honeycombs - just a full box of the 1983 recipe of Strawberry Honeycombs). How many people do we need to get Post to make these again? If they did a limited edition of then these then again they would see how popular they really are. Don't mix them and use the 1983 recipe I will buy 100 boxes!

Comment submitted: 9/28/2013 (#14431)



By tharvey904


| | |
| --- | --- |
| Cereal Rating (out of 5): | |

Bring it back PLEASE! It was the best cereal ever!

Comment submitted: 9/18/2013 (#14135)



View all 52 comments for this cereal.