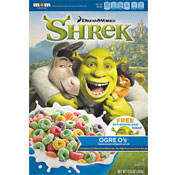 From: MOM Brands
Introduced in 2015
The complete name of this cereal is DreamWorks Shrek Ogre O's. It's described on the front of the box as a "sweetened multigrain cereal (which) contains 12 vitamins and minerals (and) no high fructose corn syrup." A description from the Mom Brands website says, "Now you can invite Shrek to breakfast with new Shrek Ogre O's cereal! Crunchy, fruity and tasty with lots of green ones!" The cereal looks remarkably like Kellogg's Froot Loops cereal.
The first 5 ingredients listed on the nutrition panel are corn, wheat and whole grain oat flour, sugar, corn syrup and salt.
The animated film
Shrek
from DreamWorks debuted in 2001. The film spawned 3 sequels:
Shrek 2
(2004),
Shrek The Third
(2007) and
Shrek Forever After
(2010). A spin-off called
Puss In Boots
was released in 2011.
By our count, this is the 4th Shrek cereal to be produced by a major cereal company. Kellogg's gave us
Shrek Cereal
in 2007. General Mills offered
Shrek's (Not Donkey's) Cereal
in 2004. In the U.K., Nestle came out with
Shrek 2 Mud & Worms Cereal
, also in 2004.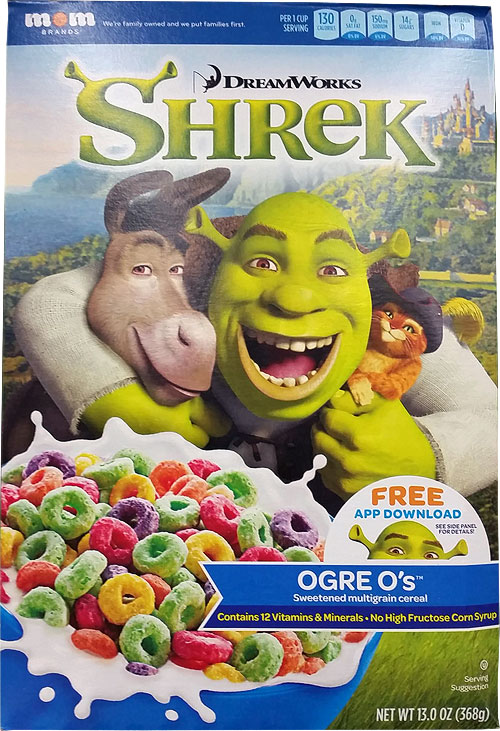 Click here
to see all cereals from MOM Brands.
This cereal belongs to the following Mr Breakfast Cereal Families:

---
Shrek Ogre O's Cereal Theater

Now Showing: Shrek 2001 Movie Trailer
---
Comments About This Cereal
What do you think of Shrek Ogre O's?

Overall Average Rating = 4 (out of 5)

By JeffThePlatypus


| | |
| --- | --- |
| Cereal Rating (out of 5): | |

Ogre O''s have changed my life, they have made me transcend above reality. Simply you're not living life unless you've had some Ogre O's.

Comment submitted: 6/25/2020 (#25321)



By Shrek4Life


| | |
| --- | --- |
| Cereal Rating (out of 5): | |

GLORIOUS! Shrek rules!

Comment submitted: 4/12/2020 (#25062)



By notthiccjohnwic


| | |
| --- | --- |
| Cereal Rating (out of 5): | |

I got too excited when I saw the brand name. I instantly bought them. Unfortunately, I got severe hay-fever and wind. I was not happy. Shrek is love. Shrek is life.

Comment submitted: 9/24/2018 (#23517)



By FoodGod


| | |
| --- | --- |
| Cereal Rating (out of 5): | |

Delightful. Truly delightful.

Comment submitted: 6/3/2018 (#23114)



By ShrekShrex


| | |
| --- | --- |
| Cereal Rating (out of 5): | |

Best Cereal Ever.

Comment submitted: 5/29/2018 (#23091)



By Supa Campa


| | |
| --- | --- |
| Cereal Rating (out of 5): | |

This is the best cereal I have ever eaten. The flavor is to do die for and this is simply a masterpiece. Simply thinking about this delicacy makes my mouth water. I hope they make this cereal again. It was amazing.

Comment submitted: 11/30/2017 (#22479)



By Tracy A1


| | |
| --- | --- |
| Cereal Rating (out of 5): | |

Just tasted like Froot Loops. No better. No worse. Maybe a little, tiny bit sweeter.

Comment submitted: 9/27/2017 (#22271)





By DONKEYBANGER (Team Breakfast Member)


| | |
| --- | --- |
| Cereal Rating (out of 5): | |

I bought my son a box of these for Christmas... simply the best $3 I ever spent.

Comment submitted: 3/6/2017 (#21442)



By Deena


| | |
| --- | --- |
| Cereal Rating (out of 5): | |

Pretty good, but Fruit Loops are better.

Comment submitted: 7/16/2016 (#20578)



By Darnell


| | |
| --- | --- |
| Cereal Rating (out of 5): | |

Bleh... pretty lame copy of Froot Loops. Not great.

Comment submitted: 4/6/2016 (#20164)