Introduced in 1976
"The lively tasting energy cereal for the go-group!"
Shreddies had been available for decades in Canada and the UK before it made it's debut in US Stores in the mid-70's. It didn't last long in the US but it still remains popular in Canada and overseas.
The first US box of the cereal described its contents like this:
"Shreddies Cereal... Get's you going and keeps you going! This is wheat at its zestiness. Each crunchy golden square is sparkled with good malt flavor stacked with wheat energy. And, Shreddies is enriched with two important vitamins - Thiamine for growth. Niacin for healthy skin. Get going with new Shreddies at breakfast and you'll keep going. It's the lively tasting energy cereal for the go-group!"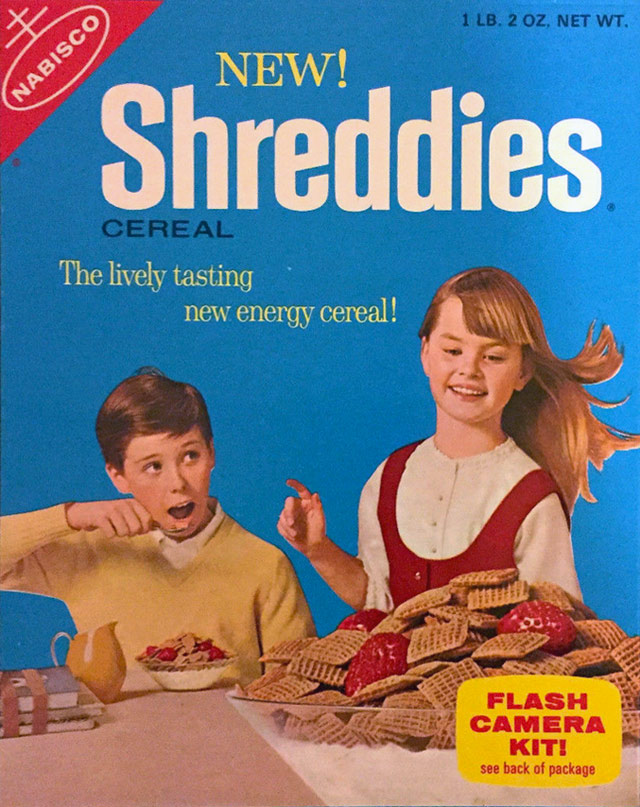 The complete ingredient list when the cereal debuted in the US was as follows: whole wheat, sugar, malt, salt, niacin, iron, thamine (Vitamin B), BHT has been added to the packaging material to preserve freshness.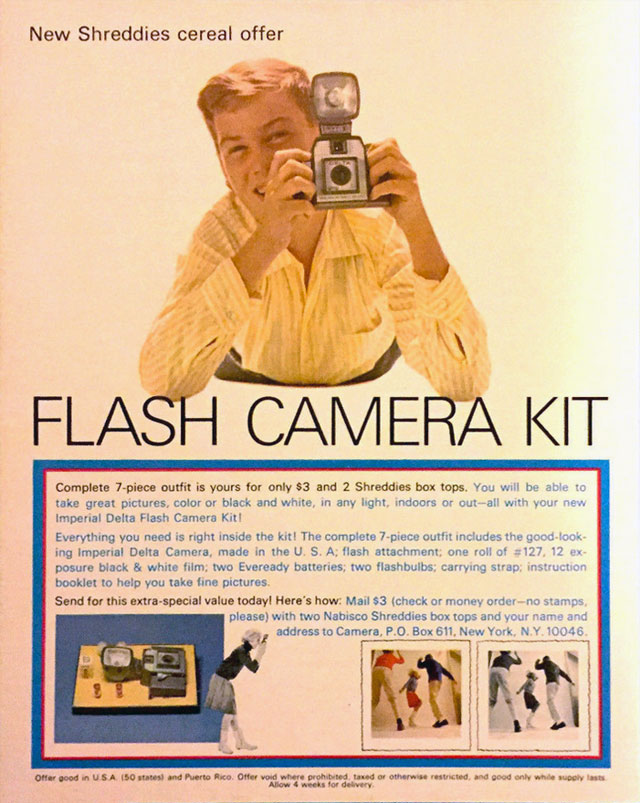 This is how a 1976 magazine ad described Shreddies:
"No sugar coating! No artificial flavor! No artificial coloring! Essential vitamins plus iron! The are some of the reasons you'll like new Shreddies Whole Wheat Cereal, Mom. Another: Shreddies cost about one-third less than most of the super-sugary kids' cereals. Most of all, you'll like new Shreddies because your kids will like new Shreddies.
"Your kids will like our new Shreddies cereal because the combination of 100% whole wheat with a touch of malt has a natural, sweet taste. It's also bite-size, crisp and crunchy."
The cereal looked exactly like Ralton's (later General Mills') Wheat Chex Cereal.
A popular slogan for Shreddies was "a breakfast cereal for kids even a mother can love."
Known premiums: a puff-mobile action racer; 3-D Dukes Of Hazzard Comic With 3-D glasses
Click here
to see all cereals from Nabisco.
---
Additional Images
---

Overall Average Rating = 4 (out of 5)

By Jay Hawke

They look exactly like GM Wheat Chex! I wonder how different Shreddies taste versus Wheat Chex. Anyone??

Comment submitted: 11/13/2019 (#24668)





By loyaltubist (Team Breakfast Member)


| | |
| --- | --- |
| Cereal Rating (out of 5): | |

I got these at a store that was selling some goods from a truck from Canada that got stalled (these aren't normally found in the states). Today, in Canada these are Post Shreddies. In the UK, they are Nestle (Cereal Partners) Shreddies. And Nabisco is now run almost on its own now through a corporation called Mondelez.

Comment submitted: 3/26/2015 (#18805)





By Yumarama (Team Breakfast Member)


| | |
| --- | --- |
| Cereal Rating (out of 5): | |

Everybody, sing along!

"Eat up, eat up!
Eat a bowl of Shreddies
The good, good whole wheat cereal
That's fun to eat
Good, good whole wheat Shreddies!"

One of my fave cereals as a kid in the 60's and still appears on my shelves now and then today.

Comment submitted: 11/3/2014 (#17947)



By Kiwisue


| | |
| --- | --- |
| Cereal Rating (out of 5): | |

I can't remember a time I didn't eat Shreddies. Finding them in New Zealand isn't easy. I pay over $12 a box when they are on the supermarket shelves!

Comment submitted: 5/23/2014 (#17090)





By iceroadtrucker (Team Breakfast Member)


| | |
| --- | --- |
| Cereal Rating (out of 5): | |

My husband is an iceroad trucker and has been eating this cereal everyday for the past 50 years. It would would make an awesome commercial showing the cereal in his semi truck in the arctic.

Comment submitted: 3/30/2013 (#11446)



By H. Eiche

Where can I find Shreddies in Denver? Does anybody know? I'd love to get some.

Comment submitted: 3/16/2012 (#6852)