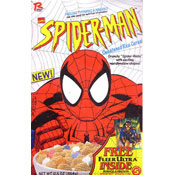 From: Ralston
Introduced in 1995
"One bite and you'll get caught in all the action of Spider-Man cereal."
This limited edition, sweetened rice cereal was a tie-in with the animated TV series
Spider-Man
which appeared on the Fox Kids Network. It was described on the front of the box as a "sweetened rice cereal (with) crunchy 'spider-webs' with exciting marshmallow shapes!" It was created in association with Marvel Comics.
The cereal consisted of Rice Chex style pieces (which were supposed to resemble "webs") and four different kinds of marshmallows. The side panel of the box described each of the marshmallow shapes.
Spider-Man Cereal Marshamallows:
Spider Symbols - "It's what Spidey wears on the back of his uniform. It's the shape of his Spider Tracers. When you see it, look for your friendly neighborhood Spider-Man."


The Evil Kingpin - "He's one big bad dude. With his crime syndicate, the Kingpin has been keeping Spidey busy for far too long. Spider-Man is dedicated to putting this massive criminal in prison for good."


Hobgoblin's Pumpkin Bomb - "Hobgoblin loves to toss these potent and powerful little bombs. They leave a tangled mess wherever they explode, allowing Hobgoblin to get away once again."


Photographer Peter Parker's Camera - "When he's not Spider-Man, Peter Parker is taking pictures for the Daily Bugle and it's Spider-foe editor J. Jonah Jameson. Peter's an amazing photographer, but he's a spectacular web-slinger."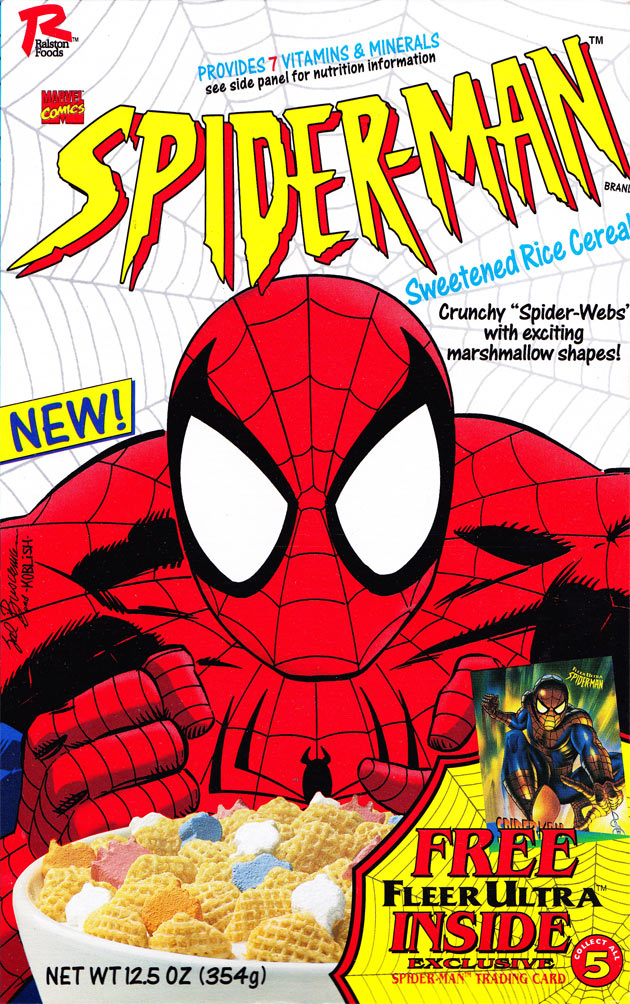 The first 7 ingredients listed on the nutrition panel were milled rice, marshmallows, sugar, brown sugar, salt, honey and malt.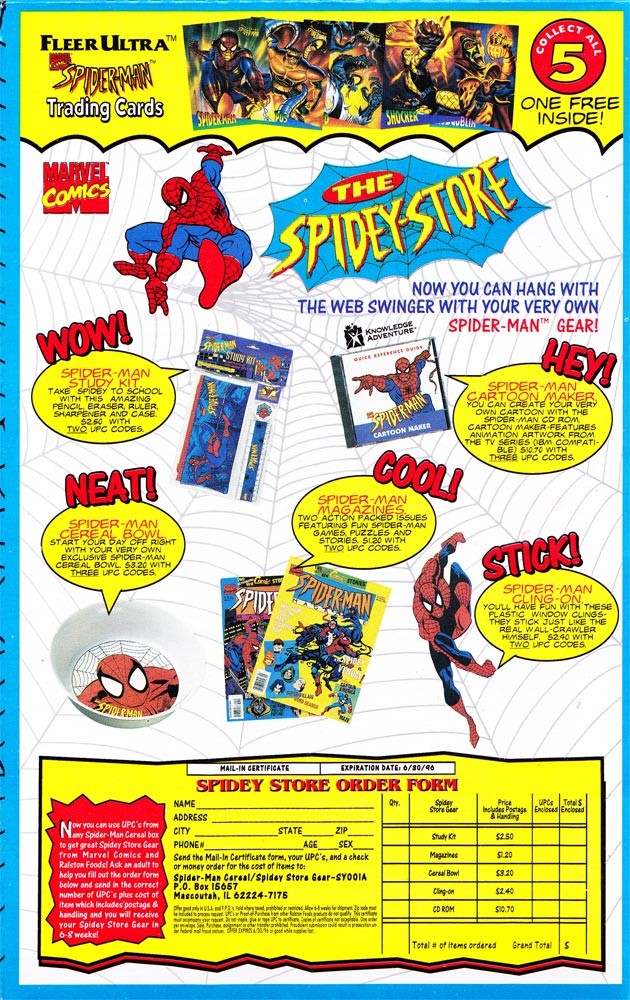 The box that we got our hands on offered one (of five) Fleer Ultra Spider-Man Trading Cards free inside. The back of the box featured "The Spidey-Store" where you could send away to to get a Spider-Man Study Kit, a Spider-Man Cereal Bowl, a Spider-Man Cling-On (window sticker) or other Spider-Man paraphernalia.
Click here
to see all cereals from Ralston.
This cereal belongs to the following Mr Breakfast Cereal Families:

---
Spider-Man (Ralston) Cereal Theater

Now Showing: 1995 Spider-Man Cereal Commercial
---
Additional Images
---
Comments About This Cereal
What do you think of Spider-Man (Ralston)?

Overall Average Rating = 5 (out of 5)

View all 22 comments for this cereal.


By CerealEnthusias


| | |
| --- | --- |
| Cereal Rating (out of 5): | |

Great!

Comment submitted: 7/10/2017 (#21993)



By Bmbott


| | |
| --- | --- |
| Cereal Rating (out of 5): | |

This was after Teenage Mutant Ninja Turtles cereal... same exact cereal, though.

Comment submitted: 7/7/2017 (#21984)



By The Ritty


| | |
| --- | --- |
| Cereal Rating (out of 5): | |

I remember this cereal because it was the same as the Ninja Turtle cereal.

Comment submitted: 1/2/2017 (#21206)



By Steve-Os

Oh Ralston. How I miss thee. They made the best cereals from the 80's and 90's. This Spiderman cereal was essentially the same as the Ninja turtles cereal. Very tasty. Too bad they don't bring this formula back and rebrand it for a new cereal.

Comment submitted: 7/10/2016 (#20531)



By Tahoe JoJo


| | |
| --- | --- |
| Cereal Rating (out of 5): | |

Best cereal on the planet! I'd buy 1,000 boxes if I could get it again!

Comment submitted: 8/29/2014 (#17578)



By spidey


| | |
| --- | --- |
| Cereal Rating (out of 5): | |

Thanks for the new tip on how to recreate this cereal. I have been doing the Lucky Charms + Crispix combo but will add a little sugar to try. A labor of love for this, the greatest cereal of all time. I wrote the company... they said it didn't sell well. I can't believe it. It truly was the best coming from a guy who eats more than a lot of cereal. You can buy a box on ebay just to remember the good times.

Comment submitted: 9/25/2013 (#14341)



By tigerthelion


| | |
| --- | --- |
| Cereal Rating (out of 5): | |

A cereal that was the cornerstone of my childhood. After school, it was just cartoons, myself, and a bowl of this unrivaled masterpiece that was Spiderman cereal. The sheer thought that this cereal (and even the concept itself) went out like the dinosaurs, is only an intangible and lonely memory that everyone else feels when their cereal is off the market never to be seen again. If some miracle occurs, and this cereal returns to shelves in the form of a unicorn barfing rainbows; it still would not stop me from buying every box on the inventory list.

Comment submitted: 8/2/2013 (#13051)



By ChaelaMonstah


| | |
| --- | --- |
| Cereal Rating (out of 5): | |

I was obsessed with this cereal as a kid. Luckily, I found that if you throw a bunch of Jet-Puft Mallow Bits (Vanilla flavored) into Crispix cereal, it tastes almost exactly the same.

Comment submitted: 6/4/2013 (#12271)



By joeshmofro


| | |
| --- | --- |
| Cereal Rating (out of 5): | |

I had this cereal one time when I was a kid and it was so good. I wish they would bring it back, Spider-man-themed or not. It was so good.

Comment submitted: 5/10/2013 (#11997)



By Missy


| | |
| --- | --- |
| Cereal Rating (out of 5): | |

I miss it! BRING IT BACK. Please:) It doesn't have to be Spider-Man. It can be a different named cereal with the rice Chex and marshmallows - great combination. Even if its limited time. General Mills brings back monster cereal around Halloween time. Please please please :p

Comment submitted: 3/30/2013 (#11442)



View all 22 comments for this cereal.