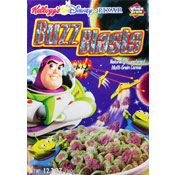 From: Kellogg's
Introduced in 2002
Buzz Blasts Cereal emerged in supermarkets at the same time as two other Kellogg's cereals - Mickey's Magix and Hunny B's. The trio of cereals resulted from a multi-year alliance between Kellogg's and The Walt Disney Company.
In a press release announcing the cereals, Buzz Blasts were described as having "multi-colored flying saucer cereal shapes that 'orbit' around Buzz Lightyear, the aliens and rocket-ship graham pieces. A Buzz adventure continues on the back of the cereal box".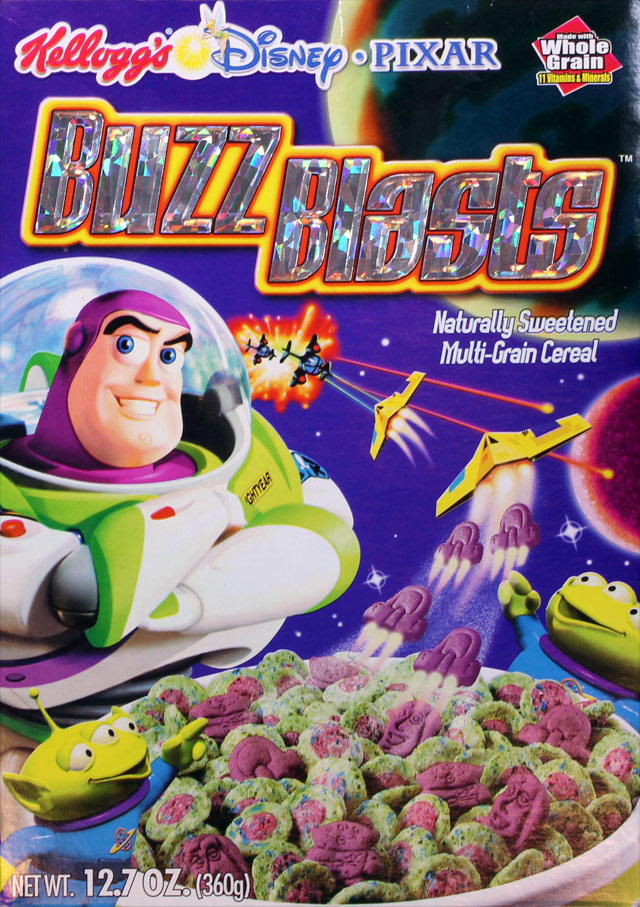 The character Buzz Lightyear is from the 1995 animated film
Toy Story
and the sequels
Toy Story 2
in 1999 and
Toy Story 3
in 2010. In all of the films, the character was voiced by actor Tim Allen. The association of the name "Buzz" to Tim Allen holds some irony considering that Allen was arrested for cocaine possession in 1978 and drunk driving in 1997. Substances such as cocaine and alcohol are said to make the user "buzzed".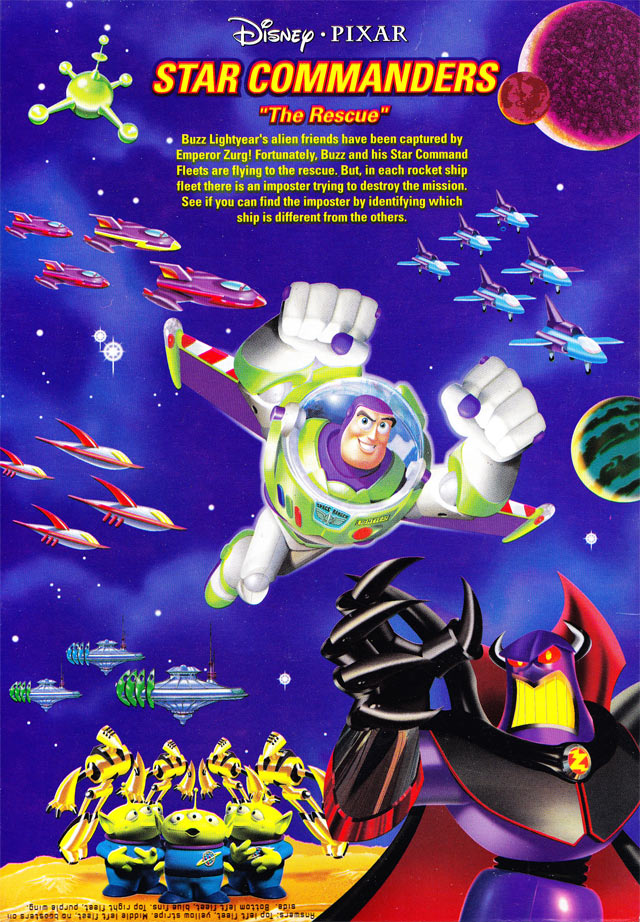 The side of the cereal box had the following text:
"Buzz Lightyear has a mission... to protect the universe from all the is evil. Buzz and the Space Rangers will always be there to save the day. You can become a Space Ranger by helping Buzz. Look at the back of the box and join Buzz as he goes 'to infinity and beyond' to defeat the world against Zurg and other intergalactic enemies."
The first 3 ingredients listed on the nutrition panel were corn and oat flour, sugar and graham pieces.
Click here
to see all cereals from Kellogg's.
This cereal belongs to the following Mr Breakfast Cereal Families:

---
Buzz Blasts Cereal Theater

Now Showing: 2002 Buzz Blasts Cereal Commercial
---
Additional Images
---
Comments About This Cereal
What do you think of Buzz Blasts?

Overall Average Rating = 5 (out of 5)

View all 59 comments for this cereal.


By monica


| | |
| --- | --- |
| Cereal Rating (out of 5): | |

This cereal was my all time fav! I wish they would bring it back. The taste wasn't like any other basic cereal. It was amazing... one of my fav childhood memories!

Comment submitted: 10/19/2018 (#23627)



By skendl


| | |
| --- | --- |
| Cereal Rating (out of 5): | |

I miss this cereal. I think about it often and wish they would bring it back. I expected it to come back when TS3 came out but it didn't.

Comment submitted: 4/5/2018 (#22894)



By pixles


| | |
| --- | --- |
| Cereal Rating (out of 5): | |

I bought this cereal at the dollar store while I was in high school. It was FANTASTIC. The taste was unlike any other cereal I've ever had and the texture of it was perfect. I was so bummed that after being able to buy a few boxes, I never saw the cereal at any store again. The memory of the deliciousness, however, has not been lost. Bring it back as something else if you need to, but geez louise, Kellogg's had a good thing going with the flavor and texture profile of this cereal.

Comment submitted: 12/9/2017 (#22507)



By monica-3


| | |
| --- | --- |
| Cereal Rating (out of 5): | |

This cereal was the best cereal that I ever ate as a kid. They NEED to bring it back!

Comment submitted: 11/28/2017 (#22475)



By Chica

Bring back Buzz Blasts Cereal NOW!!!

Comment submitted: 9/13/2017 (#22223)



By Alina


| | |
| --- | --- |
| Cereal Rating (out of 5): | |

Needs to come back! BEST cereal EVER!

Comment submitted: 5/30/2017 (#21836)



By Cat22


| | |
| --- | --- |
| Cereal Rating (out of 5): | |

Please bring back Buzz Blasts Cereal. - Catlyn A.

Comment submitted: 1/17/2017 (#21260)



By Lo Mejor


| | |
| --- | --- |
| Cereal Rating (out of 5): | |

One of the best I've ever tasted. This has to return. It's better than all others.

Comment submitted: 1/12/2017 (#21245)



By Steve-Os

Man, can't believe I didn't know about these when they came out. They sound good.

Comment submitted: 7/10/2016 (#20525)



By Caroline


| | |
| --- | --- |
| Cereal Rating (out of 5): | |

I'm okay with an imitation cereal of Buzz Blasts with a new face (mind you, Toy Story is still a best-selling franchise with plenty of new content and young fans, so there's no reason to), but there are none. Sure, the Buzz Blasts looks are iconic, but I think what everyone misses about them so badly is their taste. Somewhere along the way, Kellogg's lost their magic touch, leaving a wake of devastation as children and adults alike complained for years to come. I sometimes wonder if Buzz Blasts had drugs in them, because no other cereal has had quite a memorable impact on me or quite a long-lasting craving. Kellogg's was my dealer, and I've been in withdrawal for ten years.

Comment submitted: 1/24/2016 (#19892)



View all 59 comments for this cereal.