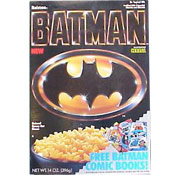 From: Ralston
Introduced in 1989
The cereal pieces in Batman cereal were made to resemble the shape of a bat. The cereal was described on the box has having a "natural honey nut flavor". A television commercial for the cereal called it "a smashing taste... a honey nut flavored part of your complete breakfast." Many people remember this cereal tasting similar to Cap'n Crunch.
Batman cereal was a promotional tie-in for a 1989 film titled
Batman
directed by Tim Burton and starring Michael Keaton, Jack Nicholson and Kim Basinger.
Cereal box enthusiasts remember this box best for a Batman Bank that was offered as premium - attached to the box within plastic shrink wrap.
In 1982, Ralston produced a second Batman cereal called
Batman Returns
as a tie-in for a film of the same name. In 2006, Post got into the Batman cereal business with their limited-edition cereal called The Batman. This time, the cereal was part of a promotion for an animated television series.
Known premiums for Batman cereal: a Batman bank attached to the the box, a send-away offer for a hologram Batman t-shirt, and offer for free Batman comics and a glow-in-the-dark Batman Frisbee.
Click here
to see all cereals from Ralston.
This cereal belongs to the following Mr Breakfast Cereal Families:

---
Batman Cereal Theater

Now Showing: Batman Cereal Commercial
---
Additional Images
---
Comments About This Cereal
What do you think of Batman?

Overall Average Rating = 4 (out of 5)

By Kooshmeister


| | |
| --- | --- |
| Cereal Rating (out of 5): | |

There was another version which included a toy Batmobile inside that was about the size of a Matchbox or Hot Wheels car. I still have the one I got as a kid. The Batmobile, I mean, not a box of the cereal, heh. I remember loving the way the cereal tasted. I wish it'd come back.

Comment submitted: 8/27/2017 (#22171)



By The Ritty


| | |
| --- | --- |
| Cereal Rating (out of 5): | |

This is my 3rd all-time favorite cereal.

Comment submitted: 1/2/2017 (#21200)



By Steve-Os


| | |
| --- | --- |
| Cereal Rating (out of 5): | |

I used to love this cereal. If my memory serves, it had a good honey flavor to it and tasted a little like Captain Crunch, but with more of a honey nut flavor. I thought it was big on taste. One of the first cold cereals I ever remember eating. So good.

Comment submitted: 7/10/2016 (#20546)



By Miguel S.


| | |
| --- | --- |
| Cereal Rating (out of 5): | |

Like all Ralston cereals, this was a pretty bad cereal that was too light and papery for the 'corn crunch' type and rather insipid in flavor. The Batman bank was one of the best bonus toys ever, though. I proudly filled mine up with pennies when I was a kid.

Comment submitted: 9/28/2015 (#19499)



By Jason


| | |
| --- | --- |
| Cereal Rating (out of 5): | |

I have two boxes of the one with out the bank from 1989. I was a kid then and thought it would be a collectible, since I already saved football and baseball cards. Any value to these boxes of cereal? Any takers?

Comment submitted: 3/18/2013 (#11293)



By Ernie


| | |
| --- | --- |
| Cereal Rating (out of 5): | |

Tasted like Cap'n Crunch, but not quite as sweet. As a Batman fan, of course I bought this frequently and still have the empty boxes, including the bank.

Comment submitted: 7/14/2012 (#8470)



By kay dee


| | |
| --- | --- |
| Cereal Rating (out of 5): | |

It was good - I remember driving from store to store to try to find a box with the bank attached (didn't get one until Ebay was invented) - but I remember thinking, what does Batman have to do with a honey-nut flavored cereal? Chocolate would have been a better choice.

Comment submitted: 4/2/2011 (#4254)



By hailey


| | |
| --- | --- |
| Cereal Rating (out of 5): | |

It was tasty, but it used to cut up my mouth.

Comment submitted: 1/15/2011 (#3590)





By Shahryar (Team Breakfast Member)


| | |
| --- | --- |
| Cereal Rating (out of 5): | |

I'm not sure if I could say it's the best cereal but it definitely was good. I think the best was caramel nut crunch

By the way, why can't I subscribe to comments on this blog?

Comment submitted: 3/26/2010 (#1686)





By larrylee (Team Breakfast Member)

This looks good!

Comment submitted: 10/20/2009 (#780)