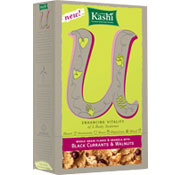 From: Kashi
Introduced in 2008
As described by Kashi, this cereal is a "tasty combination of toasted Seven Whole Grain flakes, tangy black currants, crunchy walnuts, and acai oat clusters".
The front of the cereal box describes the product more simply as "7 whole grain flakes & granola with black currents & walnuts".
When this cereal was first spotted on supermarket shelves in the Summer of 2008, the elongated brownish-grey box stood out from the other products around it. The reason for the box's unique appearance is because it's made of 100% recycled material. The company even brags that it is "printed by a company that offsets its electricity use with clean wind power".
In wording that would make C.W. Post blush, the box claims that Kashi U is "promoting vitality of 5 body systems". The body systems are listed as heart, immunity, bone, digestion and mind.
In the early 1900's, C.W. Post ran ads that claimed his Postum beverage was "a pure and natural food just as the Creator intended for Man's subsistence" and that it helped cure "coffee heart" and "brain fag".
In a sort of mission statement for the cereal, Kashi's website seemed to imply that their latest cereal could help unite the world:
"At Kashi, we believe you are what you eat. We also believe you are more than that. So we created Kashi U cereal to promote the vitality of life. And in life, everything is interconnected. Just as your systems work together, your body works with other bodies. And everybody unites to build our world."
The following text is from a June 10, 2008 press release announcing the introduction Kashi U:
"In a continuing effort to find new ways to help people achieve their best life, Kashi Company, the premier natural food company, today introduced Kashi U, their first cereal designed to promote the vitality of five body systems. Kashi U cereal features an innovative blend of Kashi Seven Whole Grains & Sesame flakes, fruit clusters and walnuts, a tasty combination that helps support the heart, bones, immunity, mind and digestion.
"'We created Kashi U to represent the unity of our body's systems and so we made a nutritionally dense cereal for people who are proactive about maintaining personal wellness. It's filled with delicious ingredients such as black currants, acai berries and chopped walnuts - which are not typically found in a cereal but deliver exceptional flavor and nourishment to promote vitality of some of the body's most important functions,' says Sarah Ceccarelli, brand manager and nutritionist for Kashi.
The tantalizing blend of lightly sweetened flakes, tangy fruit and toasted walnuts is just the beginning of what makes Kashi U cereal a smart choice for starting the day. Each flavorful bowl is packed with a special blend of nutrients to address several vital body systems: Heart-healthy omega-3 ALA from walnuts; calcium, vitamin D, and zinc to promote bone strength; and essential vitamins A, C and E plus zinc and dark colored fruit known for their potent antioxidants for an immunity boost. Kashi's new vitality cereal is also provides more than one half of the recommended daily intake of whole grains."
Click here
to see all cereals from Kashi.
---
Additional Images
---
Comments About This Cereal
What do you think of Kashi U?

Overall Average Rating = 5 (out of 5)

By Queen K.


| | |
| --- | --- |
| Cereal Rating (out of 5): | |

It's my favorite cereal ever. But I haven't been able to find it in stores in Oregon for over a year.

Comment submitted: 6/12/2013 (#12391)