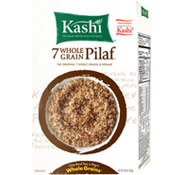 From: Kashi
Introduced in 1984
Kashi Pilaf was the cereal that started it all for Kashi. It was the company's first product when the Kashi Company was founded in 1984. According to the company, initial consumer response to the hot cereal was lukewarm. It took an intense marketing campaign including strategic placement of the cereal at the 1984 Olympic games to raise public interest in the cereal.
As described by the company's website in 2009, Kashi Pilaf is an "original blend of minimally processed raw Seven Whole Grains and Sesame (which) offers nutrient-dense, complex carbohydrates, protein, and fiber without the sodium, cholesterol, or fat common to most protein sources."
Since this cereal's introduction, the Kashi Company has gone on to produce over 50 more products, many of which include the 7 grains and sesame mixture of Kashi Pilaf as base ingredients.
Click here
to see all cereals from Kashi.
---
Comments About This Cereal
What do you think of Kashi Pilaf?

Overall Average Rating = 5 (out of 5)

By Seacrow


| | |
| --- | --- |
| Cereal Rating (out of 5): | |

My all-time favorite, too. Breakfast, salads, main dishes. I am baffled that a product this perfect for today's health focused population, they quit making it!

Comment submitted: 9/25/2020 (#25526)



By Violet


| | |
| --- | --- |
| Cereal Rating (out of 5): | |

I loved it! Quaker had a multi grain cereal in the small round box and it was similar to that and they got rid of that too!

Comment submitted: 6/19/2020 (#25299)



By Nativegarden123


| | |
| --- | --- |
| Cereal Rating (out of 5): | |

By far, their BEST product ever. With the original recipe booklets, the pilaf could be used as a base in so many delicious ways, for a variety of wonderful and nutritious dishes. This 7 grain blend made it easy for busy cooks. Please, please reconsider. Thank you.

Comment submitted: 10/18/2019 (#24614)



By I. Smart


| | |
| --- | --- |
| Cereal Rating (out of 5): | |

It was great. Then Kashi decided to screw everyone and stop making it.

Comment submitted: 2/2/2019 (#23910)



By CactusHeart


| | |
| --- | --- |
| Cereal Rating (out of 5): | |

I'm not generally a fan of hot cereal, but THIS one is a FABULOUS exception!!! This isn't sand particles like malt-o-meal or wheatena, nor is this wet cement otherwise known as oatmeal, this is simply a mixture of WHOLE GRAINS (LARGE ONES too) meaning there's more to it than the typical "slurp & swallow style" hot cereal consumption *lol*. Unlike other hot cereals, you TEETH ARE REQUIRED for THIS one. It's more to chew on, but that makes it all the more satisfying. You wouldn't think the term "al dente" would apply to a hot cereal, but in this case, it really does. I love cooking this until it's just the RIGHT amount of chewy. A dollop of (REAL) butter and brown sugar or (REAL) maple syrup makes this DIVINE!!! The only drawbacks to this product however are 1) the long cooking time required (remember these are whole grains, NOT quick oats!) and 2) the serving size is disappointingly small. In each package the grains are divided into 2 large pouches, each pouch is supposed to provide 6 servings. 6??? That means each serving size is 1/2 a cup cooked. HALF A CUP??? COOKED??? Wow, with the size of those pouches, they sure place alot of trust in you to stick to just one serving size *lol* To me, this is the kind of cereal where I almost don't want to take a bite, because that just means I have one less bite to enjoy... It's one of those cereals that are just THAT good...

Comment submitted: 9/24/2009 (#627)