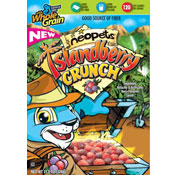 From: General Mills
Introduced in 2006
The first major cereal based upon a website. Neopets is a virtual pet community which launched in 1999. The site was purchased by Viacom in 2005 for $160 million. It's interesting to note that I'd totally sell MrBreakfast.com for $160 million. Seriously, that's a lot of cereal.
Neopets Islandberry Crunch was described on the box as a "sweetened naturally & artificially berry flavored cereal". The cereal pieces looked like purple and deep red Trix puffs.
The character who appears on the box is a Kougra. According to the Neopets website, "Kougras are one of many different species that exist in Neopia. As a general rule Kougras come from Mystery Island, although you can find Kougras all over Neopia. They have very large paws which they love to use to pounce on things."
Known premium: Neopets trading cards
Click here
to see all cereals from General Mills.
---
Additional Images
---
Comments About This Cereal
What do you think of Neopets Islandberry Crunch?

Overall Average Rating = 5 (out of 5)

By Neopets Furry


| | |
| --- | --- |
| Cereal Rating (out of 5): | |

I found this cereal on ebay today and realized I could not consume it, because it was 8 years old. That makes me very sad. I dream of this cereal. I dream of thinking about Neopets all throughout breakfast. Bring this back. I will picket outside General Mills for it.

Comment submitted: 7/23/2014 (#17396)



By Dan Rosensweet


| | |
| --- | --- |
| Cereal Rating (out of 5): | |

This is the single greatest cereal that I have ever had the momentous pleasure to consume. It is not only a childhood staple, but my computer background, and a fond, everlasting memory. I would do anything to see it back on my local grocery store's shelves, or any grocery store, for that matter. I would traverse the globe for this cereal. There is no mountain too high, or valley too low, or river too wide so that it would stand between me and Neopets Islandberry Crunch. Bring my baby back to me.

Comment submitted: 3/4/2014 (#16261)



By heartless_1995


| | |
| --- | --- |
| Cereal Rating (out of 5): | |

I remember the heyday of Neopets starting with the McDonald's Plushies and the cards. Then by Christmas, me and my sister got our first Neopets Official Magazine and then later on we got this!! By that time, it was my FAVORITE cereal ever only because I was eating what my Neopets were eating. It felt so cool. I just loved it and wished the Neopets Team brought back this fantastic cereal. Would surely bring back a lot of memories for me.

Comment submitted: 7/23/2013 (#12914)



By Domino


| | |
| --- | --- |
| Cereal Rating (out of 5): | |

It was a typical kid's cereal, nothing all that special about it. It was fun to pretend you were actually eating berries from Mystery Island but I think the flavor could've been better. It wasn't bad and wasn't all that good. I do kind of wish there would be some more neopets themed foods though because I really do enjoy the web site and I thought it was fun to try out.

Comment submitted: 11/19/2012 (#9970)



By jette1212


| | |
| --- | --- |
| Cereal Rating (out of 5): | |

I loved this cereal! It was my absolute favorite! I really wish they would bring it back:(

Comment submitted: 9/21/2012 (#9191)





By KamikoPaperGirl (Team Breakfast Member)


| | |
| --- | --- |
| Cereal Rating (out of 5): | |

We bought it once and my brother and I fought over the card... Awesome cereal though. I miss it.

Comment submitted: 1/25/2012 (#6285)



By rad44


| | |
| --- | --- |
| Cereal Rating (out of 5): | |

It was so addictive. I still crave it.

Comment submitted: 9/28/2011 (#5371)



By Mimi


| | |
| --- | --- |
| Cereal Rating (out of 5): | |

This was my favorite cereal when I was younger.

Comment submitted: 3/4/2011 (#4049)



By NeoNavi


| | |
| --- | --- |
| Cereal Rating (out of 5): | |

I loved this cereal. It was gone before I could buy it again.

Comment submitted: 12/2/2010 (#3374)