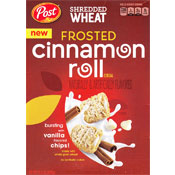 From: Post
Introduced in 2017
The complete name of this cereal is Frosted Cinnamon Roll Shredded Wheat. It's described on the front of the box as a "naturally & artificially flavored (cereal that is) made with whole grain wheat (and) no synthetic colors (that is) bursting with vanilla flavored chips!"
A description on the back of the box reads: "A tasty twist on the original. Now you can have the delicious cinnamon roll taste you know and love in every bowl full of new Post Shredded Wheat Cinnamon Roll cereal! The wholesomeness of shredded wheat biscuits combined with delicious cinnamon frosting and a burst of vanilla flavor in the middle."
Ingredients listed on the nutritional panel are whole grain wheat, sugar, palm kernel and palm oil, gelatin, cinnamon, natural and artificial flavor, sunflower lecithin, salt, freshness preserved with vitamin E, and a smattering of other vitamins and minerals.
Each 22 biscuit serving has 220 calories, 2 grams total fat (1 gram saturated and 0 grams trans), 0 mg cholesterol, 10 mg sodium, 49 grams total carbs, 6 grams dietary fiber, 16 grams sugar and 5 grams protein.
Short Review By Mr Breakfast:
When this cereal was released, Post also introduced S'more Bites Shredded Wheat and Mixed Berry Shredded Wheat. Of the trio, I enjoyed this cereal the best. While it might not remind you of a cinnamon roll, it is a very good cinnamon cereal. The vanilla frosting and center offsets and sweetens the cinnamon and wheat flavors toe create a nice overall flavor. I would buy this one again.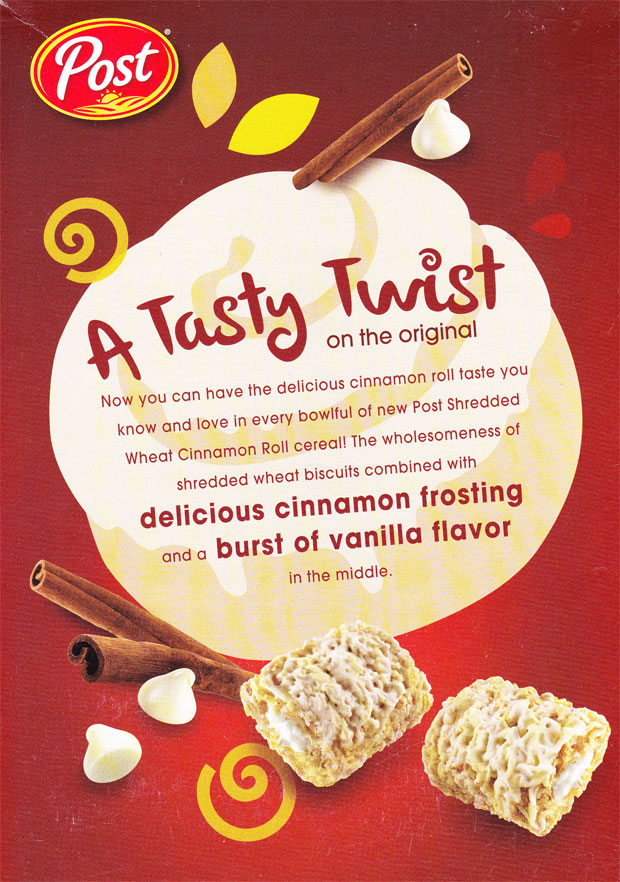 Click here
to see all cereals from Post.
---
Comments About This Cereal
What do you think of Cinnamon Roll Shredded Wheat?
There are no comments yet for this cereal. Be the first! Was it good? Was it bad?
Do you have information not included in the article? Let the world know!