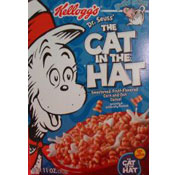 From: Kellogg's
Introduced in 2003
This limited edition cereal contained a red-striped corn and oats pieces shaped like the Cat In the Hat's stovepipe hat. It's introduction coincided with the release of the film
The Cat In the Hat
starring Mike Myers.
This was the press release that Kellogg's issued on November 17, 2003 to introduce the cereal:
BATTLE CREEK, Mich. - Kellogg Company announced the arrival of the limited edition Dr. Seuss' The Cat in the Hat cereal and Pop-Tarts toaster pastries through a promotion with Universal Pictures/DreamWorks Pictures/Imagine Entertainment's Dr. Seuss' The Cat in the Hat. Starring Mike Myers in the title role, the highly-anticipated film adaptation of the literary classic from Academy Award winning producer Brian Grazer and director Bo Welch, also stars Alec Baldwin, Kelly Preston, Dakota Fanning, Spencer Breslin and Amy Hill and is scheduled for release on November 21.
Citing consumer appetite for all things The Cat In the Hat this holiday season, the world's leading producer of cereal and a top manufacturer of convenience foods will treat shoppers to not only the tasty new cereal and toaster pastries, but also to multiple The Cat in the Hat themed vacations, giveaways and in-box surprises.
The Cat in the Hat Pop-Tarts provides breakfast and snack fans delicious, wild strawberry-flavored toaster pastries coated with a blue frosted topping and tangy crunchlets, shaped like the Cat's hat in the story. The Pop-Tarts filling consists of the book-themed red and white stripes. Pop-Tarts, invented in 1963, remain a classic Kellogg brand, bringing smiles to the faces of adults and kids alike.
Kellogg, a trusted brand name in homes worldwide, is the owner of brands and characters that are synonymous with breakfast and have become a part of daily American life. In this latest partnership, Kellogg continues to bring families what they desire - quality breakfast and snack-foods with beloved licensed characters.
"Dr. Seuss' books have delighted children and taught the basics of literacy for more than 45 years, especially with The Cat in the Hat. We are pleased to partner with a national treasure," said Jenny Enochson, director of marketing communications for Kellogg Company. "Kellogg has been bringing beloved children's characters to life for many years, and the Cat is one of our most exciting partnerships to date."
The limited edition The Cat in the Hat cereal contains a tasty blend of corn and oats shaped like the infamous stovepipe hat worn by Dr. Seuss' title character. An innovation in food science, the cereal represents a break-through in culinary technology as festive red stripes distinctly appear on the individual cereal "hats."
The limited edition cereal and Pop-Tarts promotion will run through December 31, 2003. The Cat in the Hat fans also have a chance to win prizes through the following contests and promotions:
* "Clean House Sweeps": Lucky cereal lovers who purchase Rice Krispies, Frosted Mini-Wheats, Apple Jacks, Froot Loops, Smacks, Kellogg's Frosted Flakes or Frosted Bite-Size Mini Wheats containing the Cat's infamous white gloves will win free cleaning from a Kellogg housecleaning crew for one year
* "Heads Up for Hat Check": Corn Pops' lovers who find a striped hat in specially marked packages of Corn Pops cereal may win a mega-snow boarding, beach blast or resort party
* Free The Cat in the Hat T-shirts: Cool T-shirts are available from Kellogg's Pop-Tarts with three specially marked UPC codes by mail
* Free Thing One or Thing Two: Plush characters from the story my be found in specially marked packages of Rice Krispies, Froot Loops, Apple Jacks, Smacks, Kellogg's Frosted Flakes, Frosted Krispies, Cocoa Rice Krispies and Rice Krispies Treats
ABOUT DR. SEUSS' THE CAT IN THE HAT The Cat in the Hat by Dr. Seuss was first published in 1957, and remains one of the top ten best-selling hardcover children's books of all time. The mischievous feline visitor in the striped stove-pipe hat makes his big screen debut with this live-action production, which will bring the delightfully off-kilter Dr. Seuss characters - as well as some new ones created especially for the film - to life on the big screen.
Click here
to see all cereals from Kellogg's.
This cereal belongs to the following Mr Breakfast Cereal Families:

---
Additional Images
Cat In The Hat Box - Another View
Submitter: Mr Breakfast
Uploaded: 6/13/2008
Additional details
---
Comments About This Cereal
What do you think of Cat In The Hat?

Overall Average Rating = 5 (out of 5)

View all 12 comments for this cereal.


By C.H. Knowsalot


| | |
| --- | --- |
| Cereal Rating (out of 5): | |

Never had this cereal but it looks fun and delicious! Can this come back? Please... and thank you!

Comment submitted: 2/4/2016 (#19935)



By B.O.

I am writing on behalf of my granddaughter Shania from New Bedford, MA. She attends Ashley school and turned 7 years old 3 weeks ago. I wrote to the Kellogg's company about my granddaughter school project. I sent them pictures of her and wrote them a letter. She has a learning disability and she has come a long way. She even did a YouTube fake video commercial called "New Cat in the Hat Cereal." I didn't know that they all ready had one out in 1970. I was disappointed that Kellogg's didn't write and tell Shania she did a good job. It would have meant a lot to her if somebody just looked at her school project and said they where proud of her too. It saddens me they did not return a note with a stamp and a envelope to say a good job from a big company to a small little girl. Thank you for your time.

Comment submitted: 3/26/2014 (#16480)



By Anais


| | |
| --- | --- |
| Cereal Rating (out of 5): | |

Bring it back!

Comment submitted: 10/27/2013 (#15218)



By little one


| | |
| --- | --- |
| Cereal Rating (out of 5): | |

This is a cereal that needs to make a comeback. It was the best cereal ever and not a lot of people got to find that out because it was gone so soon after it came out.

Comment submitted: 8/20/2013 (#13354)



By LuvTheBerry


| | |
| --- | --- |
| Cereal Rating (out of 5): | |

I loved this cereal. Last year, Quaker came out with Strawberry Life Crunchtime cereal. The flavor was similar to what I remembered, but Cat In The Hat Cereal was better.

Comment submitted: 6/2/2013 (#12252)



By Insanity


| | |
| --- | --- |
| Cereal Rating (out of 5): | |

I want more of this cereal! Any cereal with pieces shaped like little hats will tide me over, but I'd specifically like more Cat In The Hat!

Comment submitted: 5/22/2012 (#7728)



By Brent T.


| | |
| --- | --- |
| Cereal Rating (out of 5): | |

Actually had good strawberry flavor... should have stayed around longer.

Comment submitted: 5/12/2011 (#4823)



By wackerman

I remember seeing this one day and it was gone the next. I was waiting to see if the sunday paper would have a coupon... nope... and then I went back to the store and they were sold out and it never came back again. Sad times.

Comment submitted: 2/25/2011 (#4008)



By Wells

Cat in the Hat is the bestest on this planet. I want some!

Comment submitted: 3/2/2010 (#1516)





By larrylee (Team Breakfast Member)


| | |
| --- | --- |
| Cereal Rating (out of 5): | |

Can this cereal still be purchased anywhere? We want some!!!

Comment submitted: 10/20/2009 (#779)



View all 12 comments for this cereal.