Cereals from
Little Crow Foods

In addition to their famous CocoWheats, Little Crow Foods also produces Miracle Maize muffin and corn bread mixes, Fryin' Magic and Bakin' Miracle seasoned meat coatings and Fast Shake pancake mixes.
The company was founded in 1903 as a flour mill in Warsaw, Indiana where the company still conducts operations today.
Here's a timeline showing when their products were introduced:
1930 CoCo Wheats
1939 Miracle Maize
1953 Fryin' Magic
1985 Fast Shake
1989 Bakin' Miracle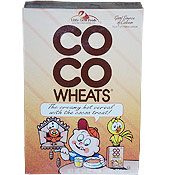 Cereal Spotlight:
CoCo Wheats Cereal
Introduced in 1930
Promoted on the box as "The creamy hot cereal with the cocoa treat!", CoCo Wheats instant, chocolate-flavored cereal has been around since 1930. The cereal takes about 90 seconds to make in the microwave and not much longer on the stovetop...
Read More
More Little Crow Foods Cereals:
For more about Little Crow Foods, visit their
official website
.