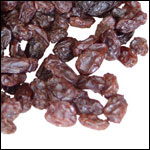 Raisin
Raisins are simple dried grapes. They make a great snack on their own and have many valuable cooking and baking applications.
Raisins make a great addition to many breakfast favorites. For pancakes, just sprinkle a couple over the batter after you dollop it onto the griddle. Same with waffles - just scatter a couple over the batter before you shut the lid of you waffle maker. A tiny handful of raisins and a dash of cinnamon can turn ordinary oatmeal into something special. And don't forget breakfast cereal. Raisin are an inexpensive way to make your mornings a little more interesting.
Three heaping Tablespoons of raisins will add a gram of protein and two grams of dietary fiber to whatever you're making.
National Raisin Day is April 30th. National Raisin Week is the first week in May.
Articles that reference "Raisin":
Columns that reference "Raisin":
Recipes with "Raisin" in the title:
Recipes with "Raisin" in the ingredients:
The editorial content above may not be reproduced without the written permission of Mr Breakfast.com. Please contact us for reprint requests.