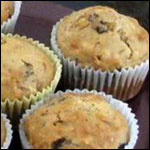 Raisin Muffins
2 cups all-purpose flour
1 cup raisins
1 cup brown sugar - packed
1/2 cup butter
1 large egg
1 teaspoon cinnamon
2 Tablespoons vegetable or canola oil
1 teaspoon baking powder
1/2 teaspoon baking soda
1/2 teaspoon nutmeg
1/2 teaspoon salt
In a small sauce pan over medium heat, add raisins and just enough water (about 1 and 2/3 cups) to cover the them. Simmer the raisins for 20 minutes. Reduce heat if a rolling boil begins. Remove from heat and allow raisins and water to cool.
Prepare 12 regular muffin cups with muffin papers or a light coating of cooking spray.
Preheat oven to 350 degrees.
In a large mixing bowl, sift together the flour, baking powder, baking soda, cinnamon. nutmeg and salt.
In a small mixing bowl, beat the egg. Add brown sugar, butter and oil and mix until texture is like wet sand. Add the raisins AND the water from the raisins and mix well.
Add the wet ingredients to the dry ingredients and mix just until well combined and moistened. Batter should be thick but fluid. Add additional water if it doesn't stir easily.
Spoon batter into prepared muffin cups, filling each about 2/3 full.
Bake for 20 to 25 minutes or until golden brown (start checking after 20 minutes). If a toothpick inserted into the center of a muffin comes out dry (no batter), the muffins are done.

Cooking with the water that the raisins simmered in makes these more flavorful than other raisin muffin recipes I've tried.
Mr Breakfast would like to thank
Bennett
for this recipe.
Comments About This Recipe
What do you think of Raisin Muffins?
Overall Average Rating =

(out of 5)




From Ginny
My grandmother has been making these raisin muffins for over 70 years. They're a family favorite.

Comment submitted: 8/26/2019 (#20837)



From Ella
I had been making that muffins 2 years before and now I want to cook again. I was looking for that recipe all internet hours until I found it. Thank you Bennett.

Comment submitted: 10/15/2018 (#20652)



From Bobaboo

Do I really have to simmer the raisins? Does it make a big difference?

Comment submitted: 2/5/2017 (#20190)



From Newfiegirl
Just made them and they came out pretty good. Will make again. Thank You.

Comment submitted: 2/4/2017 (#20189)



From Ella
Wonderful, very easy and very tasty. First time I baked that and it was perfect.

Comment submitted: 8/13/2016 (#20023)



From Chava
Yum! Thank you!

Comment submitted: 11/2/2015 (#19616)



From maggie
This recipe is super amazing! I selected this recipe because of the ratings and it appealed to me as it is different from other recipes.

Comment submitted: 1/24/2015 (#19227)



From Mya
My husband is a picky eater. He LOVES these and has been begging me to make more from before he was done eating the first batch. Didn't have to change a thing in the recipe and makes the house smell amazing.

Comment submitted: 10/4/2014 (#19030)





From tinam (Team Breakfast Member)
Just came out of the oven, hot and moist! I added 1/2 cup chopped pecans and they are awesome with a cup of coffee! Thanks Bennett and Mr. Breakfast!

Comment submitted: 11/30/2013 (#17187)



From Massage Diva
| | |
| --- | --- |
| Rating (out of 5): | |

Mine were dry and too sweet. I don't know where I went wrong! I threw them out.

Comment submitted: 3/1/2013 (#15282)



From chrysaG
Fantastic muffins! I bake a dozen every week. I bake them for 17 minutes tops instead of 25 and they come out really nice and moist.

Comment submitted: 5/5/2012 (#13875)



From cook4kids
Didn't make any changes except adding a couple drops of vanilla, plus my raisins were getting kind of stale so I wanted to use them up. But warmed up in the muffin the raisins seemed juicy again. Bravo to these muffins! Great!

Comment submitted: 10/1/2011 (#12964)



From pahansen
These muffins were very sweet and tasty, with the plump juicy raisins throughout. Mine ended up a little bit dense and hearty (which I enjoyed but the missus thought was a bit much). The kids ate about a zillion of them, and are now "super-duper full."

Comment submitted: 4/8/2011 (#12407)



From razorgirl
These muffins came out delicious! Great recipe.

Comment submitted: 3/29/2011 (#12370)



From Mr. Woof
We love these muffins, I try to make them each weekend, I just love raisins...

Comment submitted: 2/13/2011 (#12122)



From Monstamrs
Perfection! My family loved them.

Comment submitted: 12/9/2010 (#11685)



From p. potter
Best muffins I have ever eaten.

Comment submitted: 10/11/2010 (#11366)





From MamaBear (Team Breakfast Member)

What if I skip the softening of the raisins and just add chocolate covered raisins? Mmmmmm....

Comment submitted: 4/10/2010 (#10276)



From Butter Question?
I want to bake these muffins, but, what should I do with the butter. Should it be melted? or softened? Please note that in the recipe. Thank you.

Comment submitted: 8/13/2009 (#8540)



From Oliver
This recipe is AMAZING! I've made it 3x already and it's perfect each time.

Comment submitted: 6/5/2009 (#8223)



View all 26 comments for this recipe.



---
Connect With Mr Breakfast: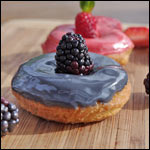 Berry Delicious Cake Donuts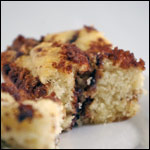 Cinnamon Flop (Coffee Cake)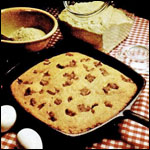 Bacon Spider Bread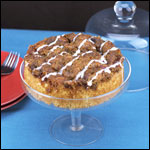 Strawberry Jam Coffee Cake