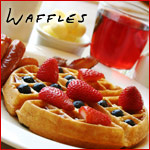 Buckwheat Waffles
1 cup self raising flour
1/2 cup buckwheat flour
2 teaspoons baking powder
2 tablespoons sugar
2 large eggs - separated
2 Tablespoons sour cream
4 Tablespoons butter - melted
1 and 1/2 cups milk
Mix all ingredients, except for egg whites.
Beat egg whites to stiff peaks and fold into mixture.
Cook in your waffle iron for about 2 and 1/2 minutes until golden.

What the heck is buckwheat? Buckwheat is not itself a cereal. It's actually an herb. The seeds of the buckwheat plant are used to make buckwheat flour. Buckwheat originated in Russia. You may have heard the term "Kasha" associated with buckwheat. That's because kasha is roasted buckwheat seeds.
Mr Breakfast would like to thank
Checkers
for this recipe.
Comments About This Recipe
What do you think of Buckwheat Waffles?
Overall Average Rating =

(out of 5)

From bwtforlife

I have worked for one of the world's largest buckwheat companies for over 10 years. Buckwheat is in NO way an herb! It is actually a fruit, related to the rhubarb plant and Kasha IS the meaning of "roasted buckwheat". Please do not post comments if you are unsure of what you are talking about.

Comment submitted: 12/29/2011 (#13373)



From Digg It

Wow. I'm Gluten Intolerant and scanned this recipe thinking it would be good to try. After reading the comments I got quite the education on the buckwheat grain/seed/herb. Thanks everyone. I am about to attempt these waffles now and will leave a comment for those curious as to how the recipe turns out!

Comment submitted: 2/19/2010 (#9853)



From Waffle head
I just got a belgian waffle maker making this now. Looks good! Please, buckwheat is not an herb. Many people think this and I would like to dispel this idea. for something to be herbaceous does not mean the seed is an herb. Cereals are grasses but that is a very specific family. Is Quinoa seed a herb, no, is flax seed a herb, no, is cumin seed a herb, no, are beans and herb, no, and neither is black pepper. Buckwheat is just not a grass (cereal grain, Poaceae family). Buckwheat grows herbaceous but we don't eat the leaves! we don't eat bean leaves either!

Comment submitted: 12/25/2009 (#9290)



From Our First Waffle Maker

Hi guys!!! Good morning... just got my first waffle iron ever.... Hubby wants me to serve him tomorrow..... what the heck is self rising flour??? If I use regular flour will it still "work"???? Thanx!!!!!

Comment submitted: 6/16/2007 (#3027)



From Marcia

Kasha DOES NOT mean "roasted buckweat seeds". The Russian word for buckweat is "grechka". Kasha is a term that is used to refer to ANY cooked grain/cereal dish, i.e. rice kasha, buckweat kasha, oatmeal kasha, and so on.

Comment submitted: 6/15/2007 (#3021)





From Gramps (Team Breakfast Member)
This has got to be the best and easiest waffles we have ever made. I did add 1/2 teaspoon of cinnamon just cause I'm me...not tooooo bad.

Comment submitted: 9/10/2006 (#302)




---
Connect With Mr Breakfast: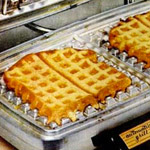 Bread-N-Butter Waffles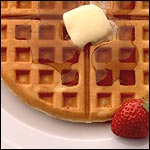 Reliable Basic Waffles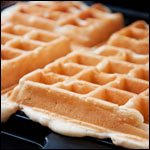 Cinnamon Waffles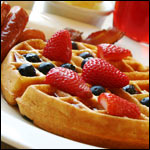 Whole Wheat Waffles

Our list of the best cereal premiums of all time.
Click here
.