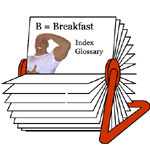 Restaurant Reviews
Mr Breakfast.com once featured thousands of restaurant reviews related to breakfast. Reviews were organized by U.S. city and state. Reviews for restaurants outside the U.S. were found under the "international" heading.
In 2017, the restaurant review section of MrBreakfast.com was phased out.
The editorial content above may not be reproduced without the written permission of Mr Breakfast.com. Please contact us for reprint requests.