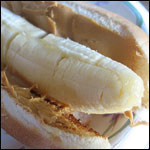 Banana Breakfast Dogs
1 banana
1 whole wheat hot dog bun


Optional Toppings:
peanut butter
strawberry jam or other jam
Nutella or similar hazelnut spread
honey
raisins
coconut
whatever you can think of
Place the peeled banana in the hot dog bun. Dress with toppings just as you would a hot dog.

This is a great idea to get fussy kids to eat breakfast.
Mr Breakfast would like to thank
The Boss
for this recipe.
Comments About This Recipe
What do you think of Banana Breakfast Dogs?
Overall Average Rating =

(out of 5)

From Snacker
Great fast snack!!!

Comment submitted: 2/6/2015 (#19248)



From Rhyan

I haven't tried it yet but my mom will be so stoked when she sees it!

Comment submitted: 9/14/2013 (#16494)



From NathansMom
Put the banana in the bun, smear peanut butter on the banana and put a line of raisins in the peanut butter and my son calls it 'Ants On A Log Hot Dog' and he LOVES it!

Comment submitted: 7/15/2013 (#16163)





From 3506eekrud (Team Breakfast Member)
I think this is a great idea! Kids would love it. You could even sprinkle a few chocolate chips on top or whatever. Now this gets me thinking? Or put the jam over the banana instead of on the bread... that way it would look more like ketchup! Cool idea.

Comment submitted: 6/12/2012 (#14053)





From 3506eekrud (Team Breakfast Member)
I am on Weight Watchers too. I figure with peanut butter and jelly, the hotdog bun and the banana, it should be around 8 points... not bad and kind of different and unique. I often slice banana and put it on my peanut butter and jelly sandwich. Why not on a hot dog bun? Neat idea!

Comment submitted: 6/12/2012 (#14052)



From nzwelshie
I'm in New Zealand and doing weight watchers and this is an amazing filling low pro point breakfast for me using a roll, banana and I use a small amount of ricotta and a drizzle of maple syrup. Heaven for me.

Comment submitted: 4/30/2012 (#13857)



From PBB lover

Trixie, you could just use honey to make your daughter her "mustard". You could even color it will food coloring if you wanted.

Comment submitted: 12/5/2010 (#11671)



From Trixie
My kids love it! We use whole wheat hot dog buns and a reduced fat peanut butter so it's really a good starter food for the day with protein, whole grains and banana vitamins. The only problem is that my daughter wants to put mustard on her hot dog. Yuck! Obviously, I don't let her. But, can anyone suggest a topping for this that might look like mustard??? That would make her day. Thanks for the recipe. Love the site.

Comment submitted: 8/10/2010 (#11042)



From Breakfast24

Well, this doesn't sound that good. And a HOT DOG bun?! Um, no thanks.

Comment submitted: 2/16/2010 (#9729)





From schweet (Team Breakfast Member)
Since this is a treat, I like to use white bread hot dog buns. As far a toppings... use ever one you mention all at once and WOW! Nutella + peanut butter = heaven!

Comment submitted: 2/16/2010 (#9720)





From TexasJen (Team Breakfast Member)
This is really going to help. My kids only eat breakfast foods that look like lunch or desert foods. Your banana split idea with oatmeal scoops instead of ice cream is a favorite here. Love your site. I would love to see even more recipes for kids. Thanks! - Jenny

Comment submitted: 2/3/2010 (#9600)




---
Connect With Mr Breakfast: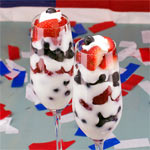 USA Breakfast Parfaits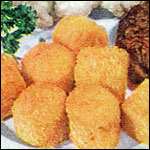 Banana Scallops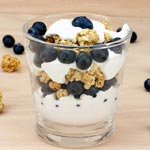 Blueberry Breakfast Parfait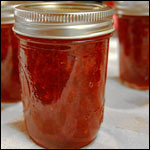 Homemade Strawberry Jam

Just because it looks fancy and tastes great doesn't mean it's hard.
Click here
.