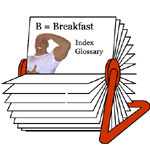 Yogurt
A dairy product in which milk is fermented and coagulated via the introduction of friendly bacteria. The result is a creamy-textured product with an astringent taste. Plain yogurt, made from milk, becomes flavored yogurt when sugar and other flavorings are added. Yogurt is a good source of B vitamins, protein and calcium.
Yogurt has a wide range of uses in breakfast from acting as a pancake topping to a major ingredient in smoothies and fruit and cereal dishes. In the Middle East it is served as a sauce with meat, fruit and vegetables.
Articles that reference "Yogurt":
Recipes with "Yogurt" in the title:
Recipes with "Yogurt" in the ingredients:
The editorial content above may not be reproduced without the written permission of Mr Breakfast.com. Please contact us for reprint requests.