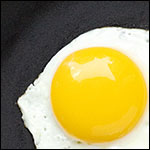 Yolk
The yellow - usually spherical - portion of an egg, consisting of protein and fat which serves as the primary source of nourishment for the early embryo within the egg. The yolk makes up about 33% of the liquid weight of an egg.
The yolk is the major source of an egg's vitamins and minerals. It is one of the few foods that naturally contain Vitamin D. Cholesterol is also present in the yolk. The yolk of a large egg contains about 59 calories.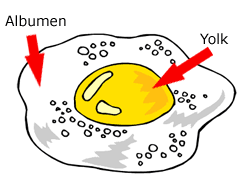 Interesting Yolk Facts:
Yolk color depends on the diet of the hen. Hens feed yellow corn or alfalfa produce medium yellow yolks while those feeding on wheat or barely produce lighter color yolks.


A hen will occasionally produce a double-yolked egg throughout her egg-laying career. In rare coccurances, a hen will produce an egg with no yolk at all.
Special Recipe:
No-Yolk Egg Substitute
Articles that reference "Yolk":
Columns that reference "Yolk":
Recipes with "Yolk" in the title:
Recipes with "Yolk" in the ingredients:
The editorial content above may not be reproduced without the written permission of Mr Breakfast.com. Please contact us for reprint requests.