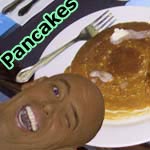 Low-Carb Pancakes (Cottage Cheese)
1 cup low-fat cottage cheese
2 egg whites
1 egg yolk
1 Tablespoon soy flour
1/2 Tablespoon cream of tartar*
1/2 package artificial sweetener
*Please see notes below
Beat the egg whites until frothy, then add the cream of tartar and continue to beat until stiff peaks form.
In separate bowl, mix together the egg yolk, cottage cheese, soy flour and sweetener.
Combine the two mixtures and stir until just combined.
Cook on a lightly greased skillet as you would any pancake recipe. Drop batter on surface large spoonfuls. Cook until each side is lightly browned.
Serve with butter and a low-carb store bought syrup. Or for an interesting low-carb topping, mix 1 Tablespoon of sugar-free jam with 1 and 1/2 Tablespoons water and microwave for 45 seconds.
For more low-carb recipes try Mr Breakfast's Low-Carb Breakfast Index.

Moist and tender pancakes made with cottage cheese, stiffly beaten egg whites and just a hint of soy flour.
Mr Breakfast would like to thank
CurbingCarbs
for this recipe.
Comments About This Recipe
What do you think of Low-Carb Pancakes (Cottage Cheese)?
Overall Average Rating =

(out of 5)

From Capt. Shanks

Good taste, but very flimsy consistency. The low-carb pork rinds pancakes on this same site are much better.

Comment submitted: 10/15/2013 (#16845)



From Sorry but
| | |
| --- | --- |
| Rating (out of 5): | |

Tried your exact recipe. They stuck to the grill and fell apart. I cooked them anyway. They taste like cheese not pancake.

Comment submitted: 8/14/2010 (#11064)



From Shell
Thank you. These came out like the real thing, I took one egg, about 4 tablespoons of cream cheese, two table spoons of artificial sweetener and 1 tablespoon of soy flour. Whipped it all together and they came out perfect! First dish I made with soy flour that taste good.

Comment submitted: 6/23/2010 (#10750)



From izzylackner

All you actually need (for 1 person) is 1 egg, a small spoonful of flour, a big spoonful of cottage cheese, a couple shakes of salt, and then mix. It's sooo good that way. This way sounds nasty.

Comment submitted: 6/13/2010 (#10678)



From Not So Good
| | |
| --- | --- |
| Rating (out of 5): | |

Ok so I tried to fry them. That didn't work they are impossible to flip. Then I tried to put them in the oven and that worked but was probably one of the worst things I've ever ate.

Comment submitted: 1/4/2009 (#7277)



From Nancy
Great recipe! I added flax seed and almond meal, and the texture was almost dead on! Thanks for helping to make pancakes a safe food again!

Comment submitted: 12/7/2008 (#7047)



From Kidder Ridge
| | |
| --- | --- |
| Rating (out of 5): | |

I must be really dumb, I couldn't get the stuff to hold enough to turn it over, it was just a pile of stuff ! tsk tsk

Comment submitted: 11/20/2008 (#6906)





From bookbase (Team Breakfast Member)
I ended up modifying the recipe a bit, I used Egg Beaters, which don't really beat up! I found my version to be impossible to turn, all they did was stick to the pan. So I baked it in a little ceramic dish, and it came out light and fluffy, almost like a souffle. I found that it didn't need sweetness, it makes a nice light breakfast dish. I also found the recipe to be too much, so I halved it, which makes one good size serving.

Comment submitted: 11/14/2008 (#6803)





From Jennifur (Team Breakfast Member)
Wow, were these delicious. I didn't have soy flour so I used bread flour, and as above I used less cream of tarter. I made four large cakes, and needed to let them really cook on the bottom (around 350 on my griddle) otherwise they tend to break up. But I was successful, and with the cottage cheese and the stevia packets, YUM YUM YUM. Hubby is diabetic and these fit the bill perfectly with some sugar-free syrup. Absolutely delicious. Next time, I'll add some flax seeds, ground up, for more body. But these are so nice and light that I didn't get that awful sick feeling like when I eat regular pancakes. BRAVO

Comment submitted: 11/4/2008 (#6745)





From sarakkaasi (Team Breakfast Member)

I made this recipe by my own. Two eggs, also yolks, and two slices bacon cutted small pieces. Little bit dried parsley and chive. No more flavours. These were marvelous.

Comment submitted: 8/23/2008 (#6286)



From Me
I used 1/2 tsp. and they tasted fine. 1/2 Tbsp is way too much.

Comment submitted: 4/25/2008 (#5109)



From kellikue

It's probably a half teaspoon. That's how much I add when beating that many egg whites. Half Tablespoon is way too much.

Comment submitted: 5/4/2007 (#2330)



From carbstarter

Did anyone respond to Jim C's response of 8-06????

Comment submitted: 3/4/2007 (#1725)



From Jim C.
| | |
| --- | --- |
| Rating (out of 5): | |

Nasty... Nasty... Nasty!!! Are you sure that the Cream of Tarter isn't supposed to be 1/2 TEASPOON?

Comment submitted: 8/18/2006 (#147)




---
Connect With Mr Breakfast: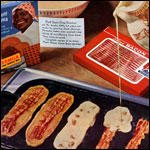 Bacon Strip Pancakes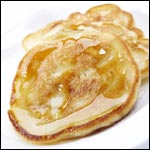 Reliable Homemade Pancakes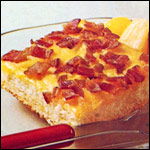 Maple-Bacon Oven Pancake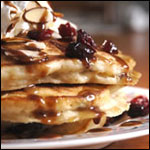 Cranberry Almond Caramel Pancakes

May the force of breakfast be with you.
Click here
.