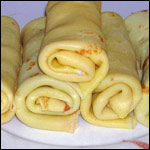 Nalesniki (Polish Pancakes)
For Batter:
2 eggs
1 and 1/2 cup milk
3 Tablespoons water
1/2 cup sifted flour
2 pinches salt


For Cottage Cheese Filling:
2 cups small curd cottage cheese
2 egg yolks
2 Tablespoons rich cream
2 Tablespoons sugar
1 pinch of salt
1 drop of vanilla extract
Preheat oven to 250 degrees F.
Prepare The Crepe-like Pancakes:
Beat eggs until light (about a minute). Add milk and water and beat again a few times. Add remaining ingredients and scrape sides. Heat small frying pan. Add a tablespoon of butter and roll around covering the entire pan. Add about 3 tablespoons of batter rolling it around to make it even. Cook the bottom side only over moderate heat. Remove from pan and place on large platter until ready to fill. Repeat until mix is all gone.
Prepare The Filling:
Add eggs and sugar to the cottage cheese and mix well. Add remaining ingredients and stir until just mixed. Put two heaping tablespoons of filling into each pancake. Roll up jelly roll style (ends can be tucked in if desired). Place into a buttered pan (9" x 13") and cover with foil. Put pan in oven for about 30 minutes.
Serve topped with sour cream if desired.

A real treat. Pancakes should be thin and crepe-like. To say "Good morning" in Polish, say "Dzien dobry" (pronounced dzhehn dobri)
Mr Breakfast would like to thank
CurtAndMary
for this recipe.
Comments About This Recipe
What do you think of Nalesniki (Polish Pancakes)?
Overall Average Rating =

(out of 5)




From Patsy

How do you pronounce it?

Comment submitted: 10/8/2018 (#20644)



From Patsy
How do you pronounce it?

Comment submitted: 8/4/2018 (#20604)



From Patsy

How do you pronounce Nalesniki? Nah Lish Nike?

Comment submitted: 2/12/2018 (#20524)



From Zosia
I have loved them since was kid... with raspberry preserves and whipped cream. Grandkids like fresh strawberries. When my son was very young, he pronounced them as 'plaszki' and it stuck, so now all my grandkids call it that too.

Comment submitted: 12/11/2017 (#20458)



From PA Petrykowski
Frankie Jones wrote, 'It is not a crepe, it is a nalesniki.' My response: Actually, it is a 'nalesnik' which is the singular for the plural, 'nalesniki.' So you would say, they are not crepes, they ARE nalesniki; or, it is not a crepe, it IS a nalesnik!

Comment submitted: 12/26/2016 (#20156)



From Thin Is Good
Hey! Thin is good. What is it people do not get about Polish Pancakes?

Comment submitted: 5/18/2016 (#19935)



From Weronika
Very similar to my Babci's recipe. The only difference is she didn't use any water and she used a full cup of flour. Otherwise it's exactly the same. Good stuff!

Comment submitted: 1/8/2016 (#19732)



From Hollija
Thank you so much for this recipe! This is the same as the Latvian cottage cheese pancakes (biezpiena pankukas) and I've not been able to find a good recipe for them. This recipe is excellent!

Comment submitted: 3/28/2015 (#19339)





From Frankie Jones (Team Breakfast Member)
This is the first traditional polish pancake recipe that even comes close to my great grandmother's. It is true that it is a more watery batter than a French crepe but it is supposed to be a very thin and very delicate "pancake". Our family begs for nalisniki's on special occasions. It does take a little bit to get the pan just the right heat and to get the hang of doing two pans at the same time. But as with the Polish style we have come to consider it a "growing up" kind of thing. Once you can accomplish it you are a true grown up! It is not a crepe it is a nalisniki.

Comment submitted: 12/13/2014 (#19147)



From St. Sal
After reading some of the comments that it needed more flour, I decided to use Ann Marie's crepe recipe in the comments. It worked really well. The filling - which I did not modify - was good without changes. Next time, I might add some crushed pineapple or some jam into the filling to make it even better.

Comment submitted: 3/5/2013 (#15309)



From barry
The batter was very, very thin so I added about 1/3 cup more of flour... also a Tablespoon of canola oil (based on a note I read here). After those changes, it turned out nice.

Comment submitted: 12/16/2011 (#13317)



From Ambrozy
Add 1/3 cup more flour and fill with apple sauce mixed with a couple dashes of cinnamon... delicious no matter what you call it.

Comment submitted: 10/27/2010 (#11470)



From Ewa

A more traditional and tasty base for any filling, sweet or traditionally-savory is:

1 cup flour
1 1/2 cup milk
1 egg
Leftovers can be wrapped in foil and kept in the fridge for up to two days-if you don't eat them before then! :)

Comment submitted: 10/12/2010 (#11377)



From Cassidhe
| | |
| --- | --- |
| Rating (out of 5): | |

The batter was much too watery. I couldn't even bake a single good one. You need more flour and some sugar, and Olga, your right, it's much better with 3 tbs. of oil.

Comment submitted: 10/12/2010 (#11375)



From twister5
Very good.

Comment submitted: 12/20/2009 (#9258)



From Ann Marie

Better crepe recipe...
3 well beaten eggs
1 cup flour
1/2 tsp salt
1 tbsp oil
1/2 tsp vanilla
1 and 1/2 cup milk

Sift together dry ingredients, beat eggs well, slowly stir in milk then eggs and other ing. Heat griddle to 375. When edges all around pancake turn dark yellow flip, count to 10, and remove!

Comment submitted: 6/9/2009 (#8245)



From Olga
This recipe needs more flour. Also, it is much easier to add 3 tablesppons of oil to the batter, and then fry nalesniki on dry Teflon pan. And use "dry cottage cheese" (they have it at Jewel), otherwise the filing is too runny.

Comment submitted: 6/15/2008 (#5532)



From Try This

Fry pancakes on oil not butter. Reduce milk b/c milk burns on the pan.

Comment submitted: 5/20/2008 (#5320)



From Passerby
Nalesniki-- at my house they were served only for breakfast if they were left over from dinner. They're good any time of the day, though. Fillings were either jam or the above sweet cheese filling. I'm echoing everyone else here in saying that the amount of flour is too small; should be 1 cup. Or cut the milk to 3/4 cup. Cheese filling: spend a couple of dollars extra, and buy farmer cheese instead of cottage cheese. Cottage cheese is not used in Poland, and it makes for a lousy substitute. A few tips for the batter: my whole family (mom, grandma, aunts) made the batter without egg whites. The batter was allowed to stand for 30 minutes, then egg whites were beaten until stiff peaks formed, gently incorporated into the batter, and then fried. This always made for much fluffier nalesniki.

Comment submitted: 12/17/2007 (#4196)



From Mac
| | |
| --- | --- |
| Rating (out of 5): | |

Nalesniki are awesome any time of the day, but this recipe is not. I followed step by step rule and I end up with a mess. Why? Need to add more flour!

Another thing, put 3 tablespoon of batter to the pan.... no comments to that. I tried that to, and again, a mess. From 6 suggested serving I ended up with one and half, largely thanks to the errors in recipe.

Lastly, those are called Nalesniki, not malesniki like someone else named it.

Comment submitted: 10/24/2007 (#3836)



View all 37 comments for this recipe.



---
Connect With Mr Breakfast: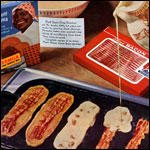 Bacon Strip Pancakes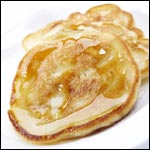 Reliable Homemade Pancakes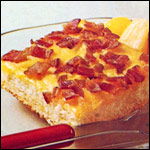 Maple-Bacon Oven Pancake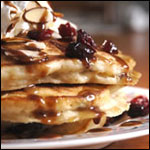 Cranberry Almond Caramel Pancakes