C Cereals
223 cereals start
with the letter
"C"

CEREALS LISTED ALPHABETICALLY: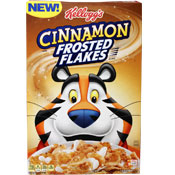 Featured "C" Cereal:
Cinnamon Frosted Flakes
The complete name of this cereal (if you note the small print) is Cinnamon Frosted Flakes Of Corn. As with traditional Frosted Flakes, the cereal's mascot is Tony The Tiger.
The back of the box (in January 2017) gave the following description...
Read More
Other Featured "C" Cereals:






More Cereals That Start with "C"