I Cereals
13 cereals start
with the letter
"I"

CEREALS LISTED ALPHABETICALLY: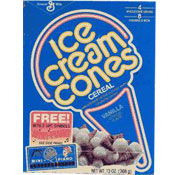 Featured "I" Cereal:
Ice Cream Cones - Vanilla
"The great taste of ice cream cones, the goodness of four grains."
Ice Cream Cones cereal was available in two flavors: vanilla and chocolate chip. The cereals consisted of...
Read More
Other Featured "I" Cereals:






More Cereals That Start with "I"