N Cereals
34 cereals start
with the letter
"N"

CEREALS LISTED ALPHABETICALLY: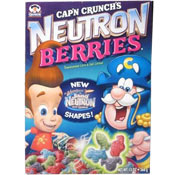 Featured "N" Cereal:
Neutron Berries
From
Quaker
; Introduced in 2001
The full name of this limited edition cereal was Cap'n Crunch's Neutron Berries. It was made up of what the box called "New 'The Adventures of Jimmy Neutron Boy Genious' Shapes" including a green rocket and a blue dog.
The cereal was a tie-in promotional product for...
Read More
Other Featured "N" Cereals:






More Cereals That Start with "N"