N Cereals
30 cereals start
with the letter
"N"

CEREALS LISTED ALPHABETICALLY: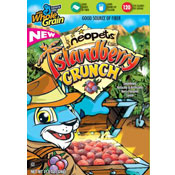 Featured " N" Cereal:
Neopets Islandberry Crunch
The first major cereal based upon a website. Neopets is a virtual pet community which launched in 1999. The site was purchased by Viacom in 2005 for $160 million...
Read More
Other Featured "N" Cereals:




Nerds Cereal
More Cereals That Start with "N"