N Cereals
33 cereals start
with the letter
"N"

CEREALS LISTED ALPHABETICALLY: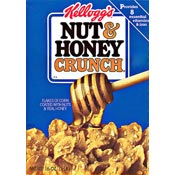 Featured " N" Cereal:
Nut & Honey Crunch
This cereal was described on the box as "flakes of corn coated with nuts & real honey". It's best remembered for a series of commercials where "Nut & Honey" was misheard as "Nothin', Honey". For example: If you asked, "What is this page about?" I would reply...
Read More
Other Featured "N" Cereals:






More Cereals That Start with "N"