Cereals from
Bear Naked

This company was founded in 2002 by Brendan Synnott and Kelly Flatley as a natural and organic food company. In 2007, it was sold to Kellogg's Kashi division. The company has said that the name "Bear Naked" reflects their "passion and dedication to using ingredients that are all-natural and 'bearly' processed."
In 2010, they encouraged consumers to save empty bags of their cereal which could be redeemed for a free Bear Naked t-shirt via details on their website.
The following description of the company is from a 2008 press release:
"Bear Naked is an all-natural food and lifestyle company that offers a full line of all-natural granolas, 100 percent organic hot cereals and all-natural and organic trail mixes. Launched in 2002, the company is passionate about creating great tasting, natural and organic foods to fit today's active lifestyles and is best known for its homemade granola made from real whole grains and 'bearly' (or minimally) processed ingredients. Today, Bear Naked has evolved into a nationally recognized consumer brand that is available in more than 10,000 retail stores across the U.S."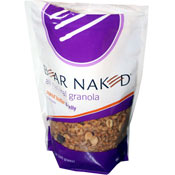 Peanut Butter & Jelly Granola
Introduced in 2007
This granola contained peanut pieces and dried raspberries. Other ingredients included whole grain oats, expeller pressed canola oil, honey, coconut, natural peanut butter, whole grain crisp rice, brown rice syrup, ground flax seed, oat bran, and natural grape flavor...
Read More