K Cereals
34 cereals start
with the letter
"K"

CEREALS LISTED ALPHABETICALLY: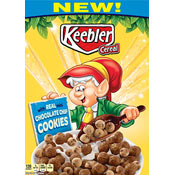 Featured "K" Cereal:
Keebler
The complete name of this product is Keebler Cereal with Real mini Chocolate Chip Cookies. The cereal is a combination of Cocoa Puffs style balls and mini chocolate chip cookie pieces shaped somewhat like cookies with a rounded tops and flat bottoms. The number of puff pieces far exceeds the number of cookie pieces...
Read More
Other Featured "K" Cereals:






More Cereals That Start with "K"