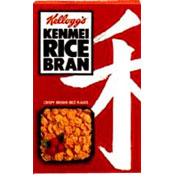 From: Kellogg's
Introduced in 1990
This cereal was featured in a March 29, 1990 article in the New York Times titled "Wary Public Gets a New Bran (Rice)". This is some of the text from that piece:
For cereal makers, the next bran craze may be fizzling before it even gets off the ground.

After the phenomenal success of oat bran products in the last two years, some cereal makers have high hopes that rice bran will be the next big success story. The Kellogg Company has recently introduced Kenmei Rice Bran, whose packaging suggests that rice consumption leads to a longer life and will lower cholesterol...

Introducing a new cereal is a major investment. Kellogg will probably spend $30 million to advertise and promote Kenmei, about the standard amount for a new cereal, said Celeste Clark, a Kellogg spokeswoman. She said the recent criticism of oat bran had not caused the company to revise its plans for Kenmei...

"We are very, very optimistic about that product," she said. Kenmei is a Japanese word for wisdom or prudence.

But some experts question the "kenmei" of investing heavily in a new bran product....

Until 18 months ago, rice bran was unfit for human consumption and was used primarily as a livestock feed supplement. An unstable enzyme caused rice bran to turn rancid quickly. Last year, scientists discovered a way to stablize rice bran.
Company Description:
Kellogg's was originally founded as the Battle Creek Toasted Corn Flake Company in 1906. The company's founder Will Keith Kellogg is credited with inventing corn flakes along with his brother John Harvey Kellogg. The company was renamed the Kellogg Company in 1922...
Read on and see all cereals from Kellogg's
This cereal belongs to the following Mr Breakfast Cereal Families:

---
Additional Images
---
Comments About This Cereal
What do you think of Kenmei Rice Bran?

Overall Average Rating = 5 (out of 5)

View all 32 comments for this cereal.


By Mr. Moo


| | |
| --- | --- |
| Cereal Rating (out of 5): | |

I wanna jump on the bandwagon asking to bring this back. I've been looking for a similar cereal for years with no luck. This was my favorite cereal when I was a kid. Considering the gluten-free movement, this cereal fits perfectly in with what a large segment of the population is looking for. Please bring it back!

Comment submitted: 12/11/2015 (#19744)



By Need More

This was the most delicious and healthy cereal. I find myself looking for it at the store because I miss it so! Bring it back please!

Comment submitted: 11/27/2014 (#18078)



By Superdave


| | |
| --- | --- |
| Cereal Rating (out of 5): | |

I, too, wish that Kellogg's would rethink producing this cereal. It was a great combo of flavor and nutrition, with low sodium and gluten free. RETURN THE KENMEI!!!

Comment submitted: 10/12/2014 (#17819)



By NeedleInNoVa


| | |
| --- | --- |
| Cereal Rating (out of 5): | |

Like so many others, I wish Kenmei was still around. The best cereal ever!! It definitely gets my vote!

Comment submitted: 9/18/2014 (#17695)



By Nice Fan


| | |
| --- | --- |
| Cereal Rating (out of 5): | |

I can't believe with all the companies getting on the gluten-free (GF) bandwagon that Kellogg's does not seem willing to bring this back. It was one of the best cold cereals GF or otherwise. It just makes sense to reexamine this due to all those who are now understanding the problem with gluten. They also need to make some other GF products. Other larger food companies have... why don't they.

Comment submitted: 9/13/2014 (#17659)



By Barb-By

I loved Kenmei Rice Bran. Proof of that is I just Googled it to see if they are making it again. Please bring it back!

Comment submitted: 8/1/2014 (#17443)



By prudence


| | |
| --- | --- |
| Cereal Rating (out of 5): | |

I liked the cereal. But, I really loved the cookies that you made with the cereal. Wish they would bring it back!

Comment submitted: 4/8/2014 (#16921)



By HMR


| | |
| --- | --- |
| Cereal Rating (out of 5): | |

Really miss that cereal... so delicious. Wish they'd bring it back! So what's the hold up, Kellogg's can afford it! You don't just take something off the market that has become a staple to so many customers!

Comment submitted: 2/13/2014 (#16034)



By R. Jackson


| | |
| --- | --- |
| Cereal Rating (out of 5): | |

I LOVED this cereal and I was just a KID at the time! I really wish they would bring it back. I have been trying to find it for years and couldn't remember the name, just what the box looked like. I was a bit sad to see that it's not even made anymore.

Comment submitted: 1/29/2014 (#15857)



By Larry V.


| | |
| --- | --- |
| Cereal Rating (out of 5): | |

Loved it. I wish Kellogg's still made it. I'd buy it on a regular basis.

Comment submitted: 7/29/2013 (#12997)



View all 32 comments for this cereal.