A Cereals
62 cereals start
with the letter
"A"

CEREALS LISTED ALPHABETICALLY: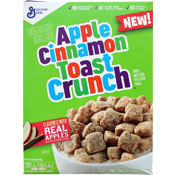 Featured "A" Cereal:
Apple Cinnamon Toast Crunch
This cereal is described on the front of the box as a "crispy, sweetened oat and corn cereal" that is "flavored with real apples and other natural flavors." Like French Toast Crunch, Strawberry Toast Crunch and Blueberry Toast Crunch, the cereal pieces are meant to resemble tiny pieces of toast. As General Mills' website put it...
Read More
Other Featured "A" Cereals:






More Cereals That Start with "A"