A Cereals
61 cereals start
with the letter
"A"

CEREALS LISTED ALPHABETICALLY: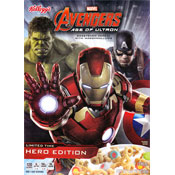 Featured "A" Cereal:
Avengers
The complete name of this cereal is Marvel Avengers: Age Of Ultron Cereal. It's described on the front of the box as a "sweetened cereal with marshmallows". On the side of the box, the marshmallows are referred to as Avenger Team Marshmallows...
Read More
Other Featured "A" Cereals:






More Cereals That Start with "A"