A Cereals
59 cereals start
with the letter
"A"

CEREALS LISTED ALPHABETICALLY: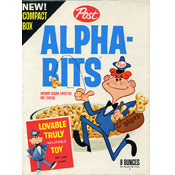 Featured " A" Cereal:
Alpha-Bits
From
Post
; Introduced in 1958
Alpha-Bits was the brain child of an Italian-American pasta lover named Al Clausi. At the time, Clausi was the head of product development for General Food, Post's parent company. He had the idea to run cereal ingredients through a machine designed to create different-macaroni shapes...
Read More
Other Featured "A" Cereals:






More Cereals That Start with "A"