A Cereals
61 cereals start
with the letter
"A"

CEREALS LISTED ALPHABETICALLY: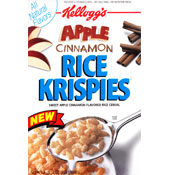 Featured " A" Cereal:
Apple Cinnamon Rice Krispies
This cereal was described on the box as a "sweet apple cinnamon flavored rice cereal" with "all natural flavors". It was introduced the same year as Kellogg's more popular Rice Krispies Treats Cereal.
A jingle from a TV ad in 1993 warned viewers...
Read More
Other Featured "A" Cereals:






More Cereals That Start with "A"