H Cereals
134 cereals start
with the letter
"H"

CEREALS LISTED ALPHABETICALLY: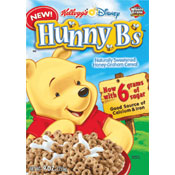 Featured "H" Cereal:
Hunny B's
This cereal was described by Kellogg's website as a "naturally sweetened honey grahams, now with delicious crunchy Eeyore-shaped cookie pieces".
The main cereal pieces were shaped like the letter "B" and looked a little like pig snouts. Within those pieces were...
Read More
Other Featured "H" Cereals:






More Cereals That Start with "H"