B Cereals
84 cereals start
with the letter
"B"

CEREALS LISTED ALPHABETICALLY: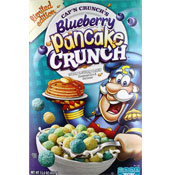 Featured "B" Cereal:
Blueberry Pancake Crunch
From
Quaker
; Introduced in 2017
The complete name of this limited edition cereal is Cap'n Crunch's Blueberry Pancake Crunch. It's described on the front of the box as a "naturally and artificially flavored sweetened corn and oat cereal." The cereal pieces are blue and tan balls shaped similarly to...
Read More
Other Featured "B" Cereals:






More Cereals That Start with "B"